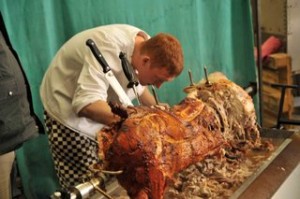 Hi there folks, we're back with another news posting and news of another triumphant month for Spitting Pig. So far this year we've reached all the goals we've set ourselves and August in particular has been a rewarding month for us, with more bookings and events than any other August on record. It's great to be working for a company with so much going for it and we're at a stage now where when people ask about event catering and hog roasting in North Wales we're one of the first names on everybody's mind. Because over the years we've cooked up a remarkable roasted hog for tens of thousands of people and the word's really getting out that we do catering better than anybody else.
It's also been great to finally see a bit of sun and have more outdoor bookings coming in. A hog roast in the outdoors is one of the best things in the world, and our chefs love it because it's not just the pigs that turn golden brown with an outdoor hog roast.
Today has been the best day for us, because this morning we were in Wrexham making hog roasts all day for a great fund raising initiative by one of our customers. The day was outside in one of Wrexham's nicest parks and the goal of the event was to make people aware of Coeliac disease, which is a disorder of the autoimmune system that's caused by a reaction to the gluten protein. We're quite familiar with the disease as caterers because we often cater for people who can't eat certain foods for a number of reasons, and a common one is an aversion to wheat. The hog roast was a little different and all the bread we served was gluten free so that everybody could eat the food, and we have to say it was no less tasty than usual! We did a hog roast pig and spit roast chickens for the guests and at the end of the event it turned out the charity had raised lots of money as well as awareness about the disease.
The food we cooked was remarkable and lots of guests came back again for seconds, and with all that standing around a nutritious energy packed pig roast or chicken roast sandwich was just what they needed!
August also marks the last month of the summer bbq menu until it's resurrected when bbq rolls around again in June. We've had so much success with the menu so far, which doesn't come as much of a surprise for us because we know just how good tasting it is, but we thought convincing people in North Wales of the menu might take a little longer. But it seems not, because we've been booked and catered the menu so many times, even though it's a brand new idea.
The biggest event we served the summer bbq menu at was at a pub, the pub had booked lots of acts for a Friday night and they wanted to go the whole hog and get caterers in, and if there's anyone who can go the whole hog it's Spitting Pig – pun intended. We cooked two 50kg pigs in the outside beer garden and all night patrons were coming in and out to get their hog roast fix. The pig came out perfect and the crackling was extra tasty. We served nice meaty chunks of pork and crackling cuttings with apple sauce on bread rolls. The pigs lasted most the night and with everyone loving our hog roasts it was a great success for us and the pub manager.
August was also a significant month as we found a new pig supplier, a supplier even better than the rest. He raises all his pigs organically on his land and they're all raised ethically and fed on a more natural diet, which means they taste even better and are healthier than ever before. We have a great relationship with all of our produce suppliers and we're sure our relationship with our new pig farmer will be just as good as all our others. So far we've had 80 pigs from him and they're all of the utmost in quality. A hog roast from Spitting Pig is even better now than it was before, and we didn't think that was possible only a few months ago.
The other news is that we're still receiving tons of interest for Olympic parties and still have spaces for bookings if you and your friends are thinking of throwing a garden or pub event.
Call us for more information and keep checking back for even more news.
It's the Spitting Pig Midlands team here and we would like to tell you what we're getting up to this week we are extremely busy today with creating the paper work for our bookings this week but thought I would take some time away from that to.
It's a very exiting week for us as we are heading to Worcester University, which started life as an emergency teacher training college after World War 2, and it is holding a fresher's fayre to welcome students to the college and making them aware of the various activities and campaigns that they can be involved in. We are delighted to be catering for them tomorrow and we will be cooking our traditional Hog roast.
The spitted hog roast is everyone's favourite when we cater for an event, we get so much positive feedback which is great so check out our testimonials page. Hog roasts should have golden crisp crackling with moist tender meat inside that falls from the bone. (That's how we do them) We cook them the same way every time to ensure perfection.
Over the last couple of years we have been receiving quite as few requests for our spit roasted lamb option which is becoming more and more popular as a second meat option and at weddings because not only does Lamb taste great slowly roasted in an oven when it has been slowly roasted on one of our spitting pig machines in its own juices to form perfection it leaves guests watering at the mouth.  The most crucial point about cooking meat is not to rush! Rushing it or cooking the hog on a high heat will result in the meat burning and the meat inside will most likely be raw. The technique is to cook LOW and SLOW – hope that helps if you decide to go for our hire option too.