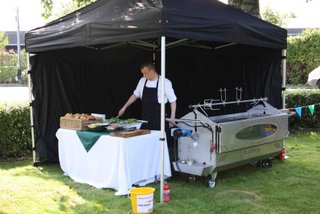 Well I wasn't expecting that this morning. Monday's can be hellish  – a nightmare commute along the A55, no parking and then when you get out of the van the good old British weather tries to wash you back from where you came –however today was a dream. Off to a function for about 50 guests at one of our local guest houses, the day started well. The birds were singing and the sun was beaming, which meant I probably wouldn't have any need for the gazebo – good news.
Once out of the house, toast munched and juice glugged, I was in the van. Freshly prepared hog and turkey were ready to go, along with some wonderful local spuds. I'd checked with organiser the night before to see if there were any last minute changes or additions. So with some extra apple sauce and stuffing I was on my way.
Once at the venue I located the manager and found out exactly how he wanted things set up. A few quick changes, due to the fantastic weather, and then we were ready to start. The cookers are impressive bits of kit which means the food has to match – let's face it a mighty roasted pig and a free bar are a pretty great combination.
For this party I'd brought along the Professional roaster as well as the other cookers and catering delights. With the help of some of the organisers I set up the roaster in the grounds – a wonderful spot overlooking the Straits. Some of the local wildlife seemed a little spooked as I took out the suckling pig ready for prepping, although some of the Jackdaws seemed to stay just within pecking distance – as though waiting for a freebie. With the steel ready, the pig looking sublime and weather pretty darned good we were ready to go. I always find myself impressed by these fabulous bits of technology and they really are conversation starters when the queues start to form. People always look at them, stand back and ponder the difficulty of cooking with them, but therein lies the beauty – say it quietly but they are surprisingly easy to use, hence our ability to hire them out as well as cater. Although whilst I'm cooking, a degree in rocket science is a must!
So fifty or so very happy customers later it was time to pack up. With some ringing endorsements in our ears and a promise to have us back later in the year – today had been a very good day. Time to pack up and brave the traffic. Organiser Jeff took the left over carcass for feeding his staff whilst I cleaned up the equipment. One last little miracle of the day – I was home in time for tea. Some days are just made for roasting.