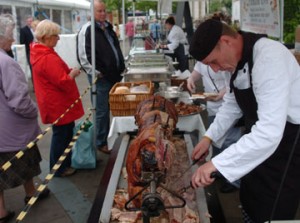 This month we had the satisfaction of catering for many great people, our favourite event of the month was catering for a small building-warming party. We're usually kept busy no matter the month, but July being slap-bang in the middle of summer is always a good month for us for bookings, we get a disproportionate number of hog roasts cooked in summer it seems. The Spitting Pig team were called up this July to cater for a local smallish business, a cafe/sandwich shop that was relocating from the outskirts of Wrexham to a more centralised location near the town centre.
It was a change of scenery for us and a move certainly worth celebrating. We were honoured to be called up for such a job, especially considering Richard, who owns the business and booked us, could have surely done a great job providing his own sandwich options. Fortunately for us Richard was a big fan of hog roasting and new that with Spitting Pig hog roasting in the vicinity that he'd attract more interest from shoppers, especially those who've never had a sandwich carved from a fresh, whole hog.
So we did just what Richard thought would do the trick, we got in our van with 2 machines and a selection of fresh meats to kick-start even the appetites of even the least hungry of walkers by.
For the sandwiches we brought our own bread rolls that we baked fresh, but we also used many of the sandwich shops baked bread to give people a more all-round sandwich experience. As for the meats, well, we cooked everything we could fit in the van! Pig, turkey, lamb, chicken, chicken kebab, beef, even the nations favourite breakfast sandwich fillings in sausages, bacon and burgers for the young children and adults alike.
We roasted the whole meats over the spit roast and also chose to tray roast a few, where as the sausages, burgers and special bacon(which was requested by the customer and added for this one event, if you fancy the same or any other new meals please call us to discuss options) were all cooked on a Spitting Pig machine grill.
Condiments were also varied as we had our own on offer as well as the sandwich special sauces that Richard offers for his own sandwiches.
It was a collaborative effort between the towns best hog roast caterer and sandwich shop and the team work really paid off, people flocked to the store to get their own free samples and by the end of the day we'd help to serve nearly a thousand people, handing out 3,000 flyers/menus for the sandwich shop/cafe.
Richard knows all too well what a good sandwich is made of and the qualities needed for great sandwich meals, he gave our service a massive thumbs up and said our spit roast sandwiches were almost as good as his… the cheek… but it's a compliment we'll take!
We're hoping to work again with Richard and already we're discussing the possibility of selling him a Spitting Pig machine, but first he's going to hire a machine from us for a few months to see how it goes. Trying before buying is always advisable and it doesn't come much more grand than our Spitting Pig hire service.
If like Richard you want catering, machine hire or a hog roast machine all to yourself, then get on the phone, or computer, and we'll spill the beans about hog roasting and why it's still popular so many thousands of years after it was invented.