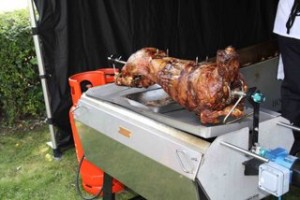 Hog roasting was the popular choice in North Wales this September, more than I can remember it ever being. We catered a hog roast for a grand total of 40 events.
On Friday the 28th was a wedding event with the biggest and boldest menu we've got, the seated hog roast menu 5 with all the foods from canapes to desserts. The spit roast of choice was a spit roast pig and also a spit roast beef, the sirloin of beef was served to 83 guests and the spit roast lamb was served to the other 91 guests, an almost even split between the two. There was a divide in guest menus but not guest reactions – each guest had glowing reviews, a couple visited our website afterwards to email us testimonials which we always appreciate so a big and sincere thank you for those of you who went out of your way to do that.
On the same day I catered a hog roast for an evening pub event. The pub had booked a number of tribute bands to play music over the course of the evening, hoping to put some life back into their business and start getting people through the door. Not content with booking some cracking music bands to bring in custom, they also booked Spitting Pig to keep everyone well fed with a hog roast out back in the beer garden area. It was an amazing night and one I'd have definitely attended if I was a local, I could hear the music from outside and it was just a really nice atmosphere. Food, music and beer, that'll do most people for an enjoyable night out. Once I'd cooked the pig for all those hours we almost emptied the pub when we gave the signal that we were ready to serve, if not for the fact it was a rather small beer garden I'm sure everybody from inside the venue would have come out all at the one time. It was a very raucous atmosphere at serving, lots of noise and hands all over the place reaching out for some roast pig on crusty bread rolls. Before you could blink I'd handed out a good hundred hog roast rolls and I was starting to see familiar faces arrive at the front of the queue for another helping. An hour later and it was practically all gone.