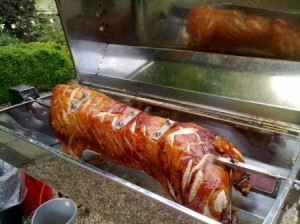 Hi guys my names Lewis and I'm the head hog roast chef for Spitting Pig in North Wales. Today I've been dragged into the office to give you the run down of what I've been doing over the last week and what events are coming up that I'm excited about and looking forward to. I'm not much of a writer but I'll try my best.
Seeing as everyone writes about hog roasting at an event I thought I'd switch it up a little as I got chance to do something different. A more behind the scenes look at what goes into being North Wales greatest hog roaster.
Recently as the head hog roast chef for Spitting Pig I went with Martin to see some of the farmers in North Wales. In total we lined up 13 meetings with prospective hog roast farmers, but there wasn't a suit and tie in sight, it was the sort of meeting that required wellies! Basically, one by one we went around to each farm to take a look at the standards of farming and to sample the produce and try to haggle ourselves to a good price for a stead supply of pigs, lamb, turkey, chickens etc for our hog roast catering events. We already have a supplier who gives us produce that is truly excellent, I love working with it as a hog roaster, but his farm isn't so big which leaves us with a problem as a growing business…. we need more produce to cover more events!
All of the farmers without any exceptions were advocates of free range farming, which is why Martin chose to look at them specifically. Martin started as a hog roast chef so he knows as much about good produce as I do, but he brought me along as a treat and I really enjoyed it. We met some excellent farmers and some real characters too, I couldn't have asked for a better day and I fancy Martin felt the same way seeing as we got the result in the end and found two farms we liked, which is a sensational result from such few farms in a single day.
We went home with a new supplier of free range chicken and turkeys, a new supplier of welsh lamb and a new supplier of regional pigs, all of which were just amazing quality and the living conditions of the animals was top notch, couldn't have asked for anything more. The only downside was getting the van stuck in a big patch of mud and having to be pulled out by one of the farmers!
It was an interesting change of scenery for me and I can't wait to hopefully get some more farm visits under my belt, getting to know and work with farmers is really rewarding for both myself and the customers who benefit from the finest organic pigs in the land.
If you've already booked or are looking to book Spitting Pig for a hog roast then you'll be tasting this amazing free range spit roasted food very soon, look forward to it!