Spitting Pig Brings a Family Together Under the Sun
Long, warm, summer days are the perfect time for delicious hog roast catering. That was the opportunity we were presented with when we were invited to service an outdoor, family reunion of 120 guests. Arriving at noon, the weather was perfect with stunning views of the waterfront as we set up our equipment and hog roast machine under the marquee.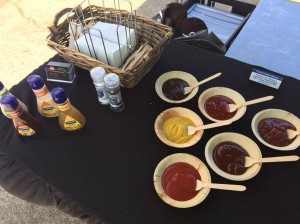 Generations of family were gathered at the sun soaked park and many of the young children came up to watch the hog roasting on the spit pole, finding it utterly fascinating and asking questions as children do. We were more than glad to answer their questions. After all customer engagement is an important part of what we do, no matter the age or size of the customer!
The smoky aroma of our roasting succulent free-range pork, rubbed with a flavorful mix of brown sugar, black pepper, garlic, onion salt and variety of fresh herbs and extra virgin olive oil drifted out with the breeze. The green grass of the park was covered with blankets and lawn chairs as guests reminisced and relaxed, chomping at the bit for a chance to sink their teeth into the juicy hog roast in Mostyn. We made sure our staff were out in full force to provide refreshments along with tasty appetizers to keep everyone happy and satiated.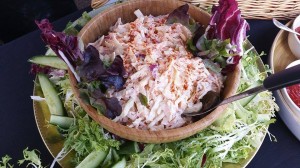 Once the hog had finished roasting, our guests were ready for the main course, having enjoyed the previous delights, refreshing and preparing their taste buds for the juicy and tender-cooked hog roast Mostyn. The carving knife slid through the meat easily as we divvied hearty portions into fresh baked buns for each of the guests. We received so many compliments on how beautiful the meat looked, roasted to a crisp, golden red-brown. And after tasting our hog roast, the compliments came on even stronger with the hand-cut chips, garden-fresh salad, and creamy coleslaw adding an extra layer of flavours to go along with the roasted pork.
The day was a success and it was an honor to serve such a special family gathering. At the end of the event we felt like a part of the family as well, like a favourite uncle bearing gifts! In this instance, the gifts being delicious, full service, finger-licking good hog roast Mostyn catering and great customer service. Business is thriving and we make sure to keep our guests well-fed and coming back for more.