Juicy flavoursome roasted pigs aren't just accessible by way of booking our catering service, many people turn to – and even prefer – the other hog roast option, hiring a machine to make their own versatile, personalised spit roast slap-up meals. It might require a bit more work on your end, though not too much, but it still remains a tempting hog roast in Conwy choice that for most is just too good to turn a blind eye to.
Hog roast catering goes down well when put with any event, but the magic of our hog roast in Llangollen event catering is encapsulated by the hog roast itself – and that's something you don't need our catering chefs or waitresses for, you can create your own at much less the cost, with much more entertainment value in doing it yourself.
Catering Made Easier Than Ever
North Wales has a prevailing natural, rural beauty that many in Britain – and in fact the world – look on with envy at. On the other hand, where hog roast Bangor machines are concerned, Spitting Pig North Wales has an overabundance of choice models that take position at the very top of the machine manufacturing world. And we don't think it any coincidence that North Wales and our hog roast machines share the same trait of being looked upon with envy, it's because the great people and scenic beauty of the region has inspired us as hog roasters to go to the very next level. It's not enough that we turn over a profit; we also want to make those that know us proud of our services and quality, proud that North Wales is home to innovative culinary leaders like Spitting Pig.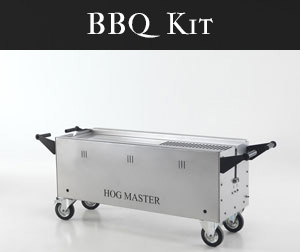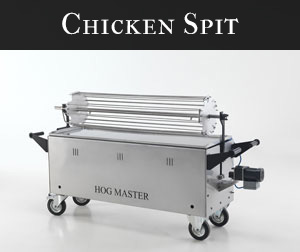 After hiring a spit roast machine from us, putting it to use and creating by yourself a spectacular, juicy hog roast Anglesey meal you'll take great pride in your accomplishment. It (spit roasting) is a long process that requires numerous hours of cooking, but it pays dividends – and the praise that'll be put in your direction from your family, friends or customers is the greatest bonus of creating your own hog roast. Your time won't just be rewarded with a mouth watering meal that drips stand-out taste, the reward of accomplishment and appreciation from those you're cooking for is just as rewarding, sometimes more so.
We have 2 variants of machines, a hog roast Ruthin machine and a spit roast machine, and the 2 types of machines come in different models with different sizes, appearance and capacity. This level of choice between machines is great for you because it means you can best choose a machine that's most suited to your event and the needs of it. So if you only have to feed 30 people then you can select our smallest machine, where as if you were to feed hundreds of people you could rent a machine with the capability to cook a lot more food. This way you aren't going to be lumped with a machine that's either far too big or too small. If you're interested in purchasing a hog roast machine then visit our website today.
[+ show][- hide]