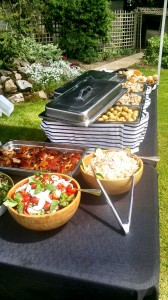 Spitting Pig is North Wales' own hog roast event caterer. We have a prolific ability for coming up with new hog roast tastes and services, an ability that we happily share each day with customers new and old. We are recognised as the best Hog Roasters in North Wales because we have multiple ways of bringing you delicious food. From all-inclusive event catering in Bangor, to a hog roast hire in Conwy, we can't be bested for class.
We have a great passion for what we offer, a passion that really shows through our high quality work. When you choose Spitting Pig North Wales you won't be dissappointed.
Individual Catering Abilities
Spitting Pig North Wales has been operating as North Wales favourite hog roaster for many years and we still hog roast as maniacally and passionately as we did in the very beginning. Hog roasting is something we never get bored of doing and it's certainly something your guests will never, ever, get bored of eating! The eminence of hog roasting in North Wales is best encapsulated by the reception our services receive, the reviews there after (which you can find on our testimonial page) and the prevailing demand for hog roast catering and machines provided by us.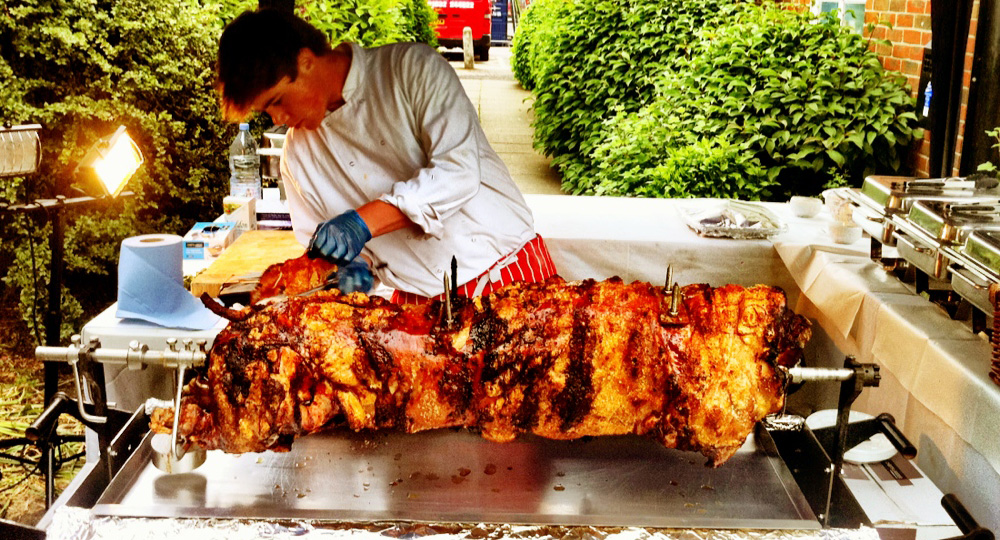 When we provide a hog roast service the only reaction we're familiar with is that of unrelenting happiness and gratitude, for all our years of experience we've yet to hear of an unhappy customer because there is no greater hog roaster for catering and none can challenge our hog roast Wrexham machine hire service. The collective goal of everybody at Spitting Pig is to take our passion of hog roasting to the public at large; we're not fussy about how we do that. We'll rent machines or come to your event to cater for you, so long as you're the recipient of a roast pig that contrasts appetising juice-packed meat with the crunchiest, most crispy crackling that can only be made with a hog roast then we're happy, because it means that our job is done.
Strong Experienced Catering Teams
A hog roast Llangollen experience is by no means an exclusive one, it can be one enjoyed with a birthday party or a corporate function and in any case it's a truly rewarding, invigorating experience. Entering a room, as your guest's will, to be greeted with an aura of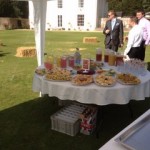 mouth watering sights and smells that can only be created with a spit roast is a simple pleasure, but one of life's better ones. We bond together fabulous historic food and stunning scenery, a recipe that makes for a breathtaking event.
Hog roasting takes many forms, it can be served in more styles and with more side dishes than you can shake a stick at, and we can cook delicious hog roasts for you to eat at any occasion, either by spit roasting the pig or tray roasting the pig.
The trick to making the most celebrated, in-demand hog roasts in North Wales is to bring together the 3 M's: Machines, meat and manpower – we have plenty of all 3. We have contracts with self-sufficient, local family farmers which ensure that for every service we're able to cook meals from fresh, using only the most desirable meats that there are. We have machines from our own machine manufacturing arm. The machines are purpose-built and give us the freedom to provide spit roasted meat, fish, poultry and even vegetables – and we can serve each in numerous ways with exciting, fresh sauces and side dishes. And we also have the manpower, because it's not just the produce and machinery that's bred for the best quality; we have a chef training program of award winning standard that breeds the most skilled catering chefs known to man.
The great reputation for imaginative, regional cooking that we have is because of the many menus we've crafted and continue to work on. Our hog roast Porthmadog menus showcase the best in event catering with a variety of desserts, side dishes, soups, canapes and an added emphasis on all the spectacularly unique spit roast meal options. Every single menu that you can choose for your event has been conjured up creatively with input from all of our chefs, refined over the years so that as the nations palates adapt and change to new tastes and flavours, so do ours. It's not just the timeless classics that we make that are so enviable, foreign foods have been a part of Hog Roast North Wales for a long time too, be it a couscous salad from Northern Africa or a mini pizza canapé from Italy, we've always cherished and promoted the best of local North Wales produce while maintaining the impartiality and foresight to recognise great foods from elsewhere and incorporate them into so many of our most popular menus!
Because we believe so fervently in making hog roasts a valuable addition to any type of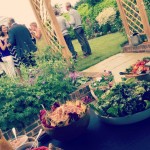 event, we make them available in very different serving styles. We can cater hog roasts and spit roasts in an informal or formal serving format, from walk-up servings of hog roasts to buffets or sit-down meals.
The vicarious benefits of Hog Roast Llandrindod Wells aren't just represented by the food itself or the way in which we serve it, for prestigious events and party occasions a front of house and a drinks bar are two services that we can provide with the catering. Outstanding professionalism is a quality trait of Spitting Pig. The chefs cook with professionalism, the waitresses serve with professionalism and our office team have the same friendly nature and professional conduct. This is represented in the way that we deal with all enquiries and customers, and the way in which we cater at every event. Even when finished catering and leaving the event we still continue to maintain our standards, cleaning up any mess that we create. Better still, we do it so quietly that you won't notice we're leaving. There's so much more to love about hog roasting and if you can spare a few minutes of your time we'll tell you more about the Spitting Pig hog roast services over the phone, even providing free quotes and event advice.