The Spitting Pig catered for a family event we held and every part of the service they provided was professional and completely hassle free.
All of the food cooked by the chef was absolutely delicious and every taste was catered for (even the more fussier family members were happy).
Thank you again Spitting Pig for a fantastic experience.
Robert, Colwyn Bay
**************************
We ordered a Spitting Pig North Wales for my dads 70th and he was over the moon! Food was just fantastic and there was something for everyone to enjoy.
Jack – Caernarfon
**************************
The best hog roast I have ever tasted. The meat was succulent and tasty and there was so much of it! The desserts were to die for! All of our guests were super impressed.
Sandra – Bodelwyddan
**************************
If you like a good hog roast, this is the restaurant for you. The quality of the meat was great, it was cooked through and tasted fresh. I'm already planning my next visit.
Luke – Llandyrnog
**************************
Used these guys at my wedding recently and they were brilliant! The food was delicious and was served by the very helpful and friendly staff. Thanks for being the perfect caterers on such a special day.
Liam – Cemaes
**************************
Your team provided an amazing hog roast for the evening of our wedding. The food was all delicious, many people commented it was the best hog roast they had ever had. Service was brilliant from start to finish. Thanks so much!
Claire – Betws-yn-Rhos
**************************
Our event was a great success, and all our friends and family commented how great the hog roast tasted. Your team were professional and we'd have no hesitation in recommending you.
Shane – Cemaes
**************************
Fantastic food, enthusiast staff and very good customer experience.
Natasha
**************************
Hiya!
The team were fantastic and went above and beyond for us. They made my life easy as the event organiser. The set-up of the food and equipment was great and the food quality really surpassed our expectations.
Thank you for everything.
Kind regards,
Laura
**************************
Hi,
The event went really well, and your team did a great job in horrible weather conditions.
The food was great, and enjoyed by everyone. Great job!!!
Kind regards, Paul
**************************
It was very successful thanks.
Your team did an excellent job on the day .  Your team were great on the phone when making arrangements – a very positive /friendly guy.
All good.????
Graham
**************************
Dear all
Thank you for last weekend, it was delicious. The feedback was very positive, your team was excellent at setting up and clearing quite fast. We will keep your details in case we need to book you again
Kind Regards,
Wandrille and Julia
**************************
Fantastic food and service – the guys were great, and everyone was very complimentary.
Thank you.
Mark – Porthmadog
**************************
Thanks so much for catering for our daughters christening. The girls who worked on the day were punctual and really lovely and professional.
I thought I'd over catered but all the food did go.
The communication before the event was great and the organisational side of things perfect.
Many thanks again
Charlotte
**************************
The evening was a great success and everything went off well.
Thank you, Christine.
**************************
If you need a caterer then these are your guys. Everything tasted beautifully and the staff were more than helpful right from the start. A great service and highly recommended.
Stacey – Caernarfon
**************************
Hi, 
Yes my party went really well on Saturday night, the team worked really hard and I appreciate all they did during the party. The food was really nice and everyone enjoyed it! 
Thank you, Michelle
**************************
Thanks for making the 28th memorable. I hadn't told the guests about a hog roast so was a great surprise for everyone.
The staff were friendly and very professional and a great night was had by all.
Thankyou.
**************************
Hi,
The service and food was fantastic. We could not fault the lads that came to us.
Regards
Karen
**************************
It was great thank you, and we appreciated your help with the various dietary requirements!
Thank you,
Emma
**************************
Hi
We had excellent feedback from all our guests! Our chef was prompt and efficient and made sure everything ran smoothly, couldn't ask for anything more,
Kind regards
Louise
**************************
Hi, would just like to say that the guys at our wedding were fantastic, professional and engaging.
The food quality cannot be faulted and we just want to say thank you so much.
Kind regards
Gary
**************************
Thank you for providing the catering for our event.  In all honesty I was so busy leading up to the event that I didn't have much contact.  Normally I am really prepared but this time forgot to think about people with special dietary requirements.
 The food was delicious.  My server was so friendly and helpful and had thought of everything.
 Everyone commented on how nice the food was.
 Thank you so much.
**************************
Good Morning,
Unfortunately I was unable to attend the event due to a prior appointment, however the feedback I received from the staff was all positive. The food was delicious and plentiful.
The staff from Spitting Pig were really attentive and helpful, even working in difficult weather conditions (torrential rain)
Kind Regards,
Lesley.
**************************
You are fantastic!  We were late back but chef kept the pig as long as possible so we still got to see it in all its glory.  Quick and efficient service and everyone loved it – not a scrap left in the morning!
 Brilliant event. Thank you
**************************
Good morning
Everything went very well thank you. The food was excellent and everyone had enough to eat- in fact all positive feedback from us. Communication was also very good on the day.
Thanks very much.
Andrew
**************************
Hi there,
Thanks so much for catering for our party last week. Our original caterers had let us down at very short notice, so we were relieved to find someone else available. The food was delicious, the staff were well turned out, friendly and efficient, tables etc looked very professional, and they left no mess! Perfect!
Regards Paulene Jones
**************************
Your staff were polite and professional, food was great, we had enough leftovers to feed the 50 staff again and everyone's now thoroughly stuff with pork, thanks!
Thanks,
Scott Latham
**************************
Hi Ash
Thank you for your email.
Everybody thoroughly enjoyed the afternoon and the food.
I particularly enjoyed the fact that the Spitting Pig Team did all the clearing up – that's always the horrible part at the end of a party!
Many thanks to you and your team in helping make a successful celebration event.
Kind regards
Samantha
**************************
Good Morning!
Sorry for the delay in responding, it's been a busy week.
We had a fantastic day and everyone enjoyed the food.
We had no complaints at all.
Your team were all very friendly and accommodating, so please send on my thanks to them.
We shall no doubt be using you again in the future.
Many thanks
Bev
**************************
Hi,
 Our Event was a success thank you ! .
We had  some good comments about the food on the day and afterwards . We had a good choice of food and everything was set up and laid out perfectly.  We would certainly consider using you for future events.
 Thank you
Louise
**************************
Morning,
Thank you so much for Saturday, everyone loved the food! No negative feedback at all it was all positive.
Many thanks again,
Lucy
**************************
The event was a great success. Your staff did a fantastic job in setting up – despite the rain !
Such a friendly team and the food was fantastic !
It's been a pleasure to deal with you and I thank you for providing a first class service !
Best wishes
Mel
**************************
Great pig !!!!
All was perfect from Alex and his team
Pig tasted great and all the trimmings
Thank you
Jonathan Cope
Homestyle Decor Ltd
**************************
 Hi Sarah,
 All was great,  there was lots of pork, Mac & Cheese!
 All said the food was good!
 If we get the chance to hold another one, I'll be back in touch.
 Regards
 Paul
**************************
Good morning
We had a fabulous evening.  Although we didn't have that many guests, they all went away with boxes of left overs which they loved. Perfect weather, perfect food, great night!  Thank you.
**************************
Hi there
 We had a fantastic day thank you. Your team were great and the food went down a treat. Everything was cleared away and left tidy. 
 Much appreciated
 Lucy. Xx
**************************
Good Afternoon,
It was thank you, it was great!
The food was lovely and the hog roast burgers went down a treat. Everyone who attended thoroughly enjoyed it! Thank you very much!
Kind regards,
Hayley
**************************
Hi Sarah,
Thanks for getting in touch. The event was a success!
The food was all great and delicious!
 I'd like to thank the two guys who were there on the night, they were absolutely great, really helpful and professional and produced some really nice food that our guests loved. 
 Regards 
 Joe. 
**************************
The guys provided a great service and we will be touch about next year's event shortly!
Kind Regards,
Caroline Holmes, PA / Senior Administrator
**************************
Hi,
Thanks for the email.
I was really pleased with how the catering went at the event, the two whole came to cook for us did an excellent job and the food they served was delicious. I really appreciated how easy the organisation and communication was and how easy going Alex the chef was.
Thank you very much!
Ed
**************************
Hi there
Yes all good no bad comments from the guests, all seemed happy  We will be definitely be using you as our regular hog roast company.
Speak soon
Many Thanks,
Chloe
**************************
Good afternoon Sarah,
Yes all went well thank you! Service from yourselves has always has been fantastic – thank you.
Kind regards/Cofion cynnes,
Nia
**************************
Hi Sarah,
I have had loads of great feedback from everyone that attended. It was very well received. The vegetarians all loved the halloumi! Would definitely recommend you to a friend!
Best wishes,
Rachel
**************************
Hi
We had a very good party thank you. Cliff was great and the food was very good.
Thanks for helping our party go well.
Regards
Jeremy
**************************
HI Sarah
Yes it was a great success thank you, everything went very well.
Thanks again
Sally
**************************
Hi Sarah,
Our evening was wonderful. Thank you for being a part of it.
Everyone said how good the food was, and your staff, Alex and the girls were delightful.
Kind Regards,
Yvonne.
**************************
We thought food was excellent, friendly chef! And would recommend you.
Regards
Tom
**************************
Hello Sarah,
Everything ran really smoothly on the day, thank you so much for the tasty food we had lots of compliments on the catering.
Kindest Regards,
Jessica O'Dwyer
**************************
Hello,
What a lovely meal we had. Whole roasted hog with all the trimmings! My daughter would like to especially mention the apple sauce which she couldn't get enough of. Thank you very much for everything, will definitely be using your services again at the next opportunity and recommending you to everyone in the meantime!
Kind Regards,
Sally
**************************
The guys did a great job, they were nice to work with and I would definitely use their services again in the future.
**************************
Hi
Yes Martin is very good and always ready to serve on time and very polite with all the guests.
Thanks Sacha.
**************************
Hi Sarah
My event was wonderful thanks to your professional service. Martin contacted me in a timely manor, turned up when arranged, cleaned up well afterwards and was endlessly helpful with guests and leftovers.
I will be recommending you to my friends.
Many thanks
Caron Plimley
**************************
Good afternoon,
Our event was a huge success thank you and we also received many positive comments about the food provided by Spitting Pig North Wales. Martin who was our chef arrived on time and was very friendly and accommodating to our needs throughout the day.
I will definitely be recommending your company to friends/family and colleagues.
Many thanks
Kind regards
Claire Willacy
**************************
Sarah
Thanks for the email the event went well and was eagerly received by everyone on site.
The aroma of the hog roasting got everyone's mouth watering.
There was nothing but praise form the guys on site, they were impressed with the crackling and the salad that was provided, the element to receive the most praise was the homemade coleslaw.
And we would recommend you for future events.
Regards
Gordon McCartin
**************************
Hi,
Martin was a fantastic host.
Will use your company again for future events.
No problems at all.
Thank for your help.
Thanks
Best Regards
Hannah Nuttall
**************************
Hi Sarah
It was absolutely fantastic! Thank you so much the food and service was amazing and everyone commented positively.
Martin was absolutely great, arriving in plenty of time and setting up quickly. He was helpful throughout and nothing was too much of a problem, great food, great service and everyone loved it.
Please pass on a massive thank you, I would definitely recommend to anyone in the future.
Have a great week!
Kind regards,
Jemma
**************************
Hi Sarah
Everything went really well thanks and Martin and Curly were fab and made the evening. The food was superb and service faultless. Many people have asked me for details so that can't be bad. Thanks again.
Jane.
**************************
Dear Sarah,
Our event was a great success, thank you.
We were very pleased indeed with the service from Spitting Pig North Wales.
Diane and her assistant (whose name I have forgotten – sorry) were very pleasant, professional and competent. They arrived when they said they would and were ready to carve the cooked hog at the time we asked for. Everyone was very complimentary about the quality and taste of the meat, which was perfectly cooked.
We would not hesitate to recommend Spitting Pig North Wales, and we hope to use you again in the future.
Ian Brand
**************************
Dear Sarah,
Just wanted to say that the staff did a wonderful job, they were fun and friendly, and everyone commented that the food was one of the tastiest hog roasts they've ever had! Thank you all so much for helping to make our wedding a great success and make all our guests happy!
Sincerely,
Lisa and Rik
**************************
Party went very well thank you, Martin looked after us very well and the hog roast was fantastic. Would recommend your services to everybody.
Regards
Colin Laidlaw
**************************
Good Morning
Sorry for the delay in replying have just returned from a break.
First may I say thank you for the support that we had and have always had from Spitting Pig from start to finish flows with great ease and removes a great pressure off my shoulders when organising a major event for the school.
Many thanks and hope to use you again next year.
Many thanks
Tony Campbell
**************************
Hello Sarah
On behalf of everyone here at Technology Supplies I would like to thank Stephen and everyone at the Spitting Pig Company for helping us host a very enjoyable event. In particular I would like to thank both girls that attended on the day – they were both a pleasure to deal with, the service provided was second to none and they made sure all of our guests were kept happy and well fed. I would have no hesitation in recommending the Spitting Pig Company to anyone thinking of having a Hog Roast at their event in the future.
Kind Regards
Stacey Williams
Purchasing Coordinator
**************************
Hello Sarah
It was wonderful. Martin was excellent. It was such a joy not to have to cook and clear up and everyone really enjoyed the meal. The roast potatoes were very good indeed with our obligatory hungover brunch on Sunday!
Emma
**************************
Sarah,
The Hog roast was fab – Martin arrived at about 8.00am and set up shop.  He and Angela were very friendly and accommodating.
The meat was lovely and everybody commented on it. Martin left us with the remains on a large tinfoil platter which we enjoyed the day after.
I would highly recommend Spitting Pig and Martin to anybody.
Liz Williams
**************************
Hi Mr Spitting Pig.
I would like to congratulate your team on a super service from ordering to communications it was very smooth. On the day the two ladies were helpful polite and well organised, I had no need to worry. I would use your company again and recommend your company to my friends. The Roast Pig was delicious and a very good portion served to everybody some even went back for more, I am not sure where they put it! Finger licking good.
Kind Regards
Chris Burrell
**************************
Hi Sarah,
The meat was delicious and the service was great, so we are very happy with everything.
Kind Regards,
Nina
**************************
Martin and co were very helpful and very professional in their approach, they cleared away everything without any mess making it much easier for our party guests to enjoy themselves after the food was served. My guests commented about how clean and organised they were and impressed that they cleared everything away.
I would recommend your company and have done so to my friends.
Pat Goulding
**************************
Hi Penny,
Everything was spot on thank you! See you next time!!
Regards
Martin and Libby Shaw
(We have 5*rd you on Facebook!! )
**************************
Good morning Spitting Pig
Apologies for late response for feedback on our event held on 14th November.
Harry did a wonderful job, was very polite and produced a well presented meal that was greatly appreciated by all who came. Your lads also cleaned up as promised and left it all clean and tidy much to the disappointment of our dogs who had to make do with licking up small drips off the floor, great job.
Thanks again for all your help with this.
Kind Regards
Robert
****************************
Our wedding was a huge success and the guests loved all of the food, the spit roast pig was a big hit in particular. Martin and the team were fantastic and helped us pull off our big day without any problems, please pass on our huge thanks to them all.
Regards
Keith and Tracey Middleton
***************************
The Hog Roast was a hit.. everybody loved it, staff were excellent and very professional.
All in all I would never do a buffet again, Hog Roast all the way for us x
Warmest Regards
Nicky | Admin Manager
***************************
Hello Penny,
Thank you for your email, and I do apologise about the delay in my reply.
What can I say about Martin and his lovely wife Diane? In short, they were absolutely fantastic.
From meeting them in March to discuss the menu and go through everything, they put our minds at rest immediately. Warm and friendly, it felt like we had known them for years.
Fast forward to the week of our wedding and we met with Martin and Diane again to finalise the arrangements, again it was like meeting old friends for a coffee. They even put up with my Dad and brother who had travelled up that day and were a little merry for the train journey. My brother is an exceptional chilli head, and Martin promised that he would sort out a chilli sauce for the hog roast baps he would be serving.
Finally the 18th September arrived and things couldn't have gone better. Martin arrived with his lovely girls at about 10.30am when we were setting up the venue. We were offered the chance to see our pig or 'Yoda' as we had named him, and what a pig he was, was a tight fit in that cooker! Martin was amazing and liaised with the venue staff of what he needed and where to place the buffet. The wedding party at this point had to leave, but Martin reassured me that when we returned, we would be in for a treat.
We arrived back at the venue after the ceremony to the delicious aroma – even for a vegetarian like me – of roasted Yoda. It looked simply amazing. More platters were brought out at serving time with mountains of mouth watering Thai, caprese and pasta salad and another huge serving dish of crispy roasted spuds. Then, it was the pig's time to shine as the cooker was opened, showcasing a perfectly cooked, juicy fleshed and crunchy crackling hog.
The food was just incredible and everyone commented on how moreish and delicious it was. We literally had people raving about the hog and sides all night! My brother, who had previously been promised a chilli sauce worth his while, was certainly not disappointed by Martins offering. We vegetarians were impressed too, with the hearty Mediterranean tart that was on offer – simply lush! Everyone had plenty to eat and were stuffed to the rafters, when Martin and the team put everything left together into foil platters and left them pride of place on the buffet tables, whilst they quietly tidied up and slipped away leaving us to enjoy the rest of the evening.
I simply can't thank Martin and Diane enough, they are an incredible team and the food was divine, people are still talking about it two weeks later. I have recommended him to anyone that will listen and will certainly instruct his services in future – we have some big birthdays coming up in the next 18 months!
Thanks,
Katie
***************************
I was absolutely delighted with the whole set up provided on Sunday the 13th September.  Angela and Martin are two of the nicest people one could wish to meet.The whole occasion was so professional.  All our guests were most impressed.
I would like you to pass on our sincere thanks to both Angela and Martin.
***************************
Hi Spitting Pig,
We used your service at Kingsmead school on Friday 4th September. The service provided was excellent and may I add that Martyn and his wife were true professionals, and are a credit to your company.
Kind regards
Neil
*****************************
Hi Martin
Just to say many thanks for the hog roast at the party last Saturday for Wayne's 50th birthday
Everyone commented on how lovely the food was
We would certainly book you again
Best wishes
Karen & Wayne
*********************************
Hi Carly,
Our event was a great success thank you. The pig was large for our numbers (everybody took a good doggy bag home!) but tender and succulent: many thanks to Martin and his helper. We much appreciated the quiet and professional way that they tackled the cooking and serving of "piggy"! Please make sure that our thanks have been passed on to Martin.
We will have no hesitation in recommending the Spitting Pig Co. to anyone who enquires in the future.
Yours sincerely,
Pam and Jon Denny
*********************************
It was excellent thank you – super service.
James
*********************************
Everything was excellent- timing, set-up, the pig, the extras, the taste, service, friendliness, clear-up-
All very good indeed.  Many thanks. Lots of people asked for your name.
Best wishes,
Michael
*********************************
All good, Thank you very much!
Kim McKee – Inglewood Manor Hotel
*********************************
Hello,
All went to plan and Martin & Angela looked after us well. Food was delicious…plenty of it. Made our day go with a swing.
Everything was set up and cleared away as said.
So thank you.
Kind Regards,
Lesley
*********************************
We had a fantastic day at hafod farm on sat and the hog roast was amazing!
They arrived and set themselves up outside as best they could despite the slightly rubbish weather (it was very windy!) They were extremely polite and helpful, whilst also being flexible and understanding about the serving time, we were running a bit later than expected! Everyone commented on how tasty and beautifully cooked the meat was and the portion sizes were very generous!
There were just over 100 people and they served them all quickly but their manner with each guest was warm, friendly and relaxed. We couldn't recommend them enough! Sooo many people asked us for contact details! A friend of our family who had provided the hot vegetarian dishes for us, used to cater for the army so has done many large events and he was massively impressed with the quality of the hog roast and the cooking techniques involved.
It was one of the best ways to feed a large number of people for a reasonable price and have them all happy and satisfied! An easy, reliable and professional service from booking to eating! And the leftovers have already made amazing cold butties, curry and stew!
Thank you sooooo much!
From Clare and Rich
(Now Mr and Mrs Feely!)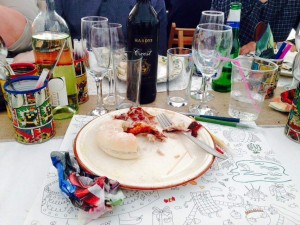 *********************************
We had a wonderful party yesterday, everyone of our guests were full of praise for the excellent quality of the food. The lamb was delicious.
We were delighted with the whole service. Martin and Angela were efficient and very charming and helpful.
I know a lot of your cards were taken home and we will recommend you.
Regards
Pat Weir
*********************************
Well what a first class service you deliver from making the inquire through to the collecting after the function.
Very professional from start to finish. The driver that delivered and collected was most helpful and polite throughout and was on site on time both at the start and the collection allowing for traffic he explained the operation of the pig roast and was very proficient and a superb ambassador for the company.
Will most definitely use  the company again and will spread the word
Thank you again for the fine service.
Tony Campbell
*********************************
Hi Adam
Sorry for not getting back sooner. I would like to say what an excellent service Martin gave. The food was delicious and his flexibility and service was lovely. Feedback from all the guests was only positive. Please pass on my thanks to him.
Regards
Will.
*********************************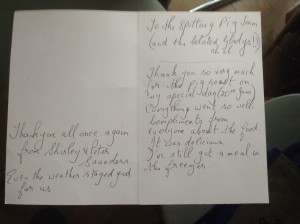 *********************************
My 60th birthday event was a great success! Everyone enjoyed the hog roast and the salmon was beautifully prepared and served by Martin and his lady assistants who were very friendly and courteous. I would not hesitate in recommending you. Indeed I will definitely call you again
Best regards
Phil Taylor
*********************************
Hi Martin,
Many thanks for doing such a fantastic job with our pig – it was the centerpiece of the whole wedding, was absolutely delicious, and we're still working our way through the last of it!
Lauren & Spencer
*********************************
Hi Martin
Just wanted to express my thanks to you and your team for the splendid service at last week's Plantworx.  Having high quality stand hospitality makes a real difference to the overall visitor experience and helped the Cat team create a really welcoming atmosphere. Your team was professional and unflaggingly friendly, even during the inclement weather of Tuesday!  How you kept up your energy levels, particularly considering your daily commute from Llangollen, is astounding; pigs may not fly but Spitting Pig is certainly super-charged!
Thank you for all your hard work and I hope to work with you all again soon.
Kind regards
Sheryn Moore
*********************************
We were absolutely delighted with the food and the service. Everyone raved about the pork!! No wonder it all went!  And mum said how nice and personable you both were. I love my food and it was ace to hear you share the same enthusiasm about your food.
10 out of 10!
Thank you very much indeed guys!
Be well, Mike
*********************************
Hi
Yes! We had a very successful family party and Martin (head chef) was extremely professional and helpful!
The food was set up on time and cooked well with plenty to go around everyone.
Very polite and after clearing away he left without any fuss so the party could continue without any interruptions.
I would not hesitate to recommend his services to others.
Thanks!
Siobhan
*********************************
The food was as stated, the pig was brilliant but the chicken was my favourite. Martin and his team did brilliant at carrying out such a big event and I would like to thank them on behalf of me and my guests.
Many thanks once again,
Daniel
*********************************
I was really pleased with the quality of food and service from Spitting Pig. The whole group thought the food was fantastic and it was great to have all set out and tidied away for us. Plus the ladies serving were really nice and added to the event.
Thanks,
Andrew
*********************************
Hi Martin & Diane
A great big thankyou for the hog roast at Trevor Hall for my 40th birthday party.
It was fabulous all the best.
Nia
*********************************
Food was absolutely delicious on Saturday night.  We'd like to say a big thank you to Martin and his team, especially for braving the elements to provide us with a feast fit for a queen.
Diolch yn fawr!
*********************************
Hi Martin
The hog roast in Bebington was great thanks. People enjoyed it and how stress free (for me) it was. I wouldn't hesitate to recommend you to friends, and will use you again should the opportunity arise!
Mandy
*********************************
Morning Steve,
Just a quick note to thank Martin and the team for a great day yesterday.
Very professional, with nothing too much trouble.
I hope they enjoyed their time at MoneySuperMarket.com as well.
Thanks again
David Owen
Chef/Manager
MoneySuperMarket.com
*********************************
The guys that came to arrange our hog roast were excellent. Very friendly, open to discussing our requirements, and listened to our comments. On the day, they turned up promptly, set up quickly and were friendly to our guests when serving. The hog roast was delicious and lots of people commented on it. We would definitely book again for another big party and have no hesitation in recommending this service.
Val and Colin
*********************************
Just a quick line to say thanks for the Hog Roast on Friday evening at school. Martin and Angela were a great team and everyone was very complementary.
Thank you again.
Regards,Chris Roberts
Mrs C A Roberts
Business Manager
ST GEORGE'S PRIMARY SCHOOL
*********************************
Jo and I wanted to thank you for the amazing job you did at our wedding back in April. It was the first hog roast that we'd had and it lived up to all our expectations, the salads and extra bits and bobs were lovely and the pig was delicious! You really made our day especially being so incredibly efficient, to this day I don't quite know how you managed to get through so many people in such a tight time frame, something about being professionals I guess…!
We just want you to know that all your effort was really appreciated and we wouldn't hesitate a moment to recommend you to anyone, everyone there really appreciated your efforts and you really made our day.
Thanks again,
Paul & Jo
*********************************
I'd like to compliment your chef, Martin Anderson, for the excellent service he provided on Sat 20 April, at Walton on Thames.
The food was outstanding; everybody enjoyed it and Martin carried out his duties in a highly professional manner ensuring everybody's needs were met and indeed he exceeded all our expectations. I cannot praise him enough.
Such a commitment to great customer service is to be commended. You can be sure that I will use the Spitting Pig Co, for any future events I have, and will be recommending you to many friends and work colleagues.
Martin
*********************************
I just wanted to drop you a quick line to say a massive thanks for making our 50th birthday celebration such a memorable event. You and your staff were fantastic and met every challenge we threw at you. All our guests were so impressed with the food and your presentation. Fantastic mate, we will be back for more………….as will many others from the comments we heard. Thanks again, you are a star.
Andy and Angie.
*********************************
We were so delighted with Martin (Anderson) from Spitting Pig North Wales. As we were holding a corporate event you can imagine people always like to express their views and I'm delighted to say that people could not have been happier with the service that Martin and Sharon (Martin's assistant) gave. They were friendly, helpful and most of all professional. We had a brilliant day. Thank you so much and look forward to having you again at our Kidder minster Office on the 4 October.
Many thanks J
Katie Brooks
*********************************
We had the best time yesterday and most of it was down to you guys. Can't believe we didn't think of using you sooner, the food was impeccable, really good and everybody seemed to feel the same way. Will definitely use you again for future events
Chris
*********************************
"Spitting Pig stands out as one of very few caterers with excellent food at a fair price,"
*********************************
It's not every day that we book professional caterers so we can't pretend to have experienced all of them but judging by last night i'd say its fair to say you're one of the best caterers about.
*********************************
I'd absolutely recommend Spitting Pig to my friends, their food has no equal and the staff have always been very friendly while maintaining professionalism. If you need catering then Spitting Pig are the best in town
*********************************
Even though we were expecting good quality catering even we were surprised at just how good it actually was. Incredible is the best way to describe it and most surprising of all was everything was as good as the hog roast, even the starters and salads were top draw
*********************************
Best buffet ever
Guys, absolutely loved the catering couldn't get enough of it. The pig, the lamb, the starters, desserts, the lot, it was all so bloody good! Waitresses also did their job very well and all round there wasn't anything that I think you could have done better.
Greg Odsal
*********************************
We were impressed with Spitting Pig because not only was the hog roast a welcome addition to our wedding but they also have the best staff and it's very easy to get along with the Spitting Pig team, they don't mind helping you with event ideas even if you're ringing up every other minute as i was!
*********************************
"Very few self-styled hog roasters know what it is that makes a truly great, authentic hog roast – Spitting Pig are counted amongst those few"
*********************************
An email of thanks to your company, we don't have a bad word to say. Customer service has been second to none from the very beginning, our chef didn't once shy away from talking to us infact he was always happy to discuss the event and bounce back menu ideas with us, so we were very confident about the day because of our pleasant experiences before hand and it turns out we were right to be confident because the chef, his assistant and all the waitresses did a remarkable job. Quite a few of our guests arrived late and so we changed the serving time at the last moment but it wasn't a problem for the chef and the food came out perfect despite the late change.
Please could you let Kyle know we said thanks and if you could tell the same to the waitresses and chef assistant that'd be very much appreciated
*********************************
Hey guys, can't think of a word to describe yesterday other than amazing! The hog roast with the crackling and succulent meat really was as advertised and we'd probably be selling you short by saying you did just a good job, because it was so much more than that. Staff were friendly and perfect too.
Thanks once more, Janette
*********************************
I think everybody loved the hog roast, haven't spoke to a person yet who didn't like it and my sister also said how good her vegan replacement dish was and reckons it was better than most upper class restaurant stuff. So I just wanted to let you know that we were over the moon with your catering and if we had a party every week we would book Spitting Pig every week!
Lucy R, NTServices
*********************************
"… Spitting Pig have revolutionised the hog roast scene!" – roasters mag