This week at Hog Roast Mold, we were contacted by the land owner and manager of a caravan site. He told us that one of the residents, who holiday at the site regularly, had a young son who was celebrating his birthday. Tommy, the birthday boy, was turning ten, so Kevin, the land owner, decided to hire a hog roast and throw a party at his own his expense, to celebrate. We spoke with Kevin about the particulars of his event.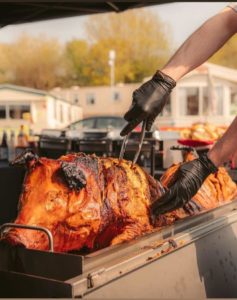 There was going to be forty guests attending, and it was an outdoor event, so we recommended something that was easy to eat with your hands – our famous pigs in buns, which would be served on high quality disposable plates with napkins, along with a selection of sauces. We also discussed preferences for serve times, and offered a choice of desserts. He opted for the zesty lemon tarte and chocolate profiteroles.
When the day of the event arrived, our team from Hog Roast Mold were on site nice and early to begin preparations. As we slow cook all our meats, and prepare all our food using only raw, fresh ingredients on site, we always make sure to arrive at the venue for an event with plenty of time to spare, to allow for the slow cooking process which is our key to success. Eventually the Hog had roasted to a wonderful golden hue, and the guests queued to be served their pigs in buns. They ate in the sunshine, before enjoying a drink and laughter, as the kids took advantage of the wide open spaces and had a big game of football. After a little while, once everyone had enjoyed seconds, and even thirds of the pigs in buns, desserts were served. The chocolate profiteroles proved popular amongst the children, and lemon tarte did nicely for the adults.
After a lovely day in the sunshine, a tired Tommy was eventually carried off to bed, whilst the rest of the camp stayed up drinking and dancing into the night. All the while, our team from Hog Roast Mold discreetly tidied away their mess and disposed of any waste off site.