After marrying in the summer sixty years ago, Bobby and Hazel wanted to celebrate their long, loving marriage with their family and friends. Yet, they didn't want to bother renting out a venue as they wanted a relaxed, friendly atmosphere at home. However, their oven was well past its sell-by-date and definitely not up to cooking for all their guests. Their daughter recommended Hog Roast Corwen after realising that there was no hope of using her parents kitchen to manage all their hungry guests. She booked them straight away and reserved them for the whole Saturday.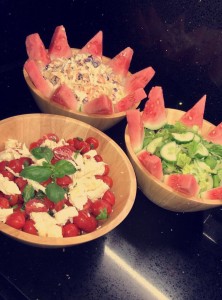 Once the clock chimed for lunch time, Bobby and Hazel's guests started to arrive. The Hog Roast Corwen team was already set up in the garden and had the meat frying as their family started to mingle in the house. The smell alone was enough to bring the neighbours round to the house, bringing bottles of wines and additions to the buffet.
All their guests brought presents and cards until there was a mountain of gifts in the front room and dozens of cards adorned the mantel piece. Bobby and Hazel also received a very special card from the Queen congratulating them on their on their long lived marriage.
The Hog Roast Corwen team provided more food options than guests would have thought possible with a variety of fresh meat, sides and spices. The aromatic smell drifted through the mingling guests drawing them all into until everything was cooked to perfect. By the time Bobby and Hazel reached the table, everyone had already tried all the food, however there was plenty of food still being cooked up to supply everyone's third and second helpings.
As everyone finished off their food, the couple revealed their triple tier anniversary cake. To the cheers of their guests, Bobby and Hazel cut the cake and everyone enjoyed the end of the party. The couple celebrated a fantastic anniversary and they were served with amazing food by a very friendly Hog Roast Corwen team. They were not disappointed by their daughter's recommendation and thanked the team unendingly for their service.