Catering often follows seasonal trends, and this is definitely evident with wedding menus. For example, the foods enjoyed during summer weddings tend to be different to foods enjoyed at winter weddings, as certain foods are popular during certain seasons. Hog Roast Lake Vyrnwy have such a wide selection of dishes on offer that we can keep up with many current food trends, allowing us to provide contemporary and delicious meals for any wedding or event.
Noah and Georgina had been planning their wedding since their engagement began 3 years ago. After having to postpone due to lockdown and government restrictions twice, it was more important than ever that their big day went according to plan. Their reception was being hosted at a farm in North Wales, with 130 of their friends and family in attendance. To plan their catering, Noah contacted our Hog Roast Lake Vyrnwy manager Alan, who was more than happy to help. The couple wanted something stylish and on-trend for their catering, and our Alfresco Menu was a perfect choice!
On the day of the wedding, our team prepared themselves for a 15:00 mealtime. As the guests arrived, they were shown to their seats by our Hog Roast Lake Vyrnwy waiting staff, and promptly served their wonderful sharing platters to begin the catering. The platters are a stylish charcuterie platter, consisting of cooked sliced meat, gourmet cheese, fresh breads, and more! They include something for everyone to enjoy and provide a great variety of tastes and textures.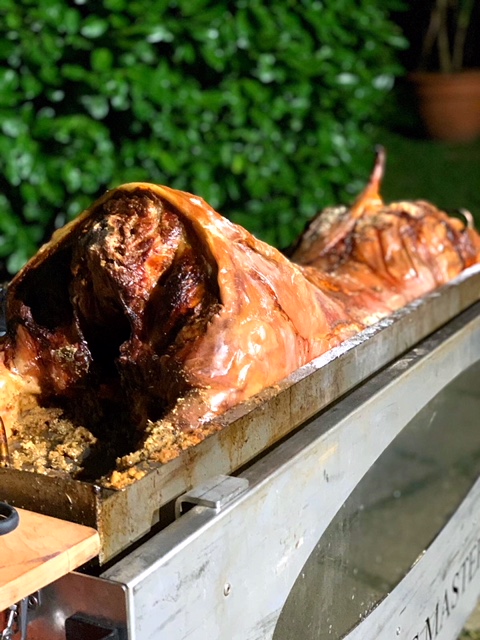 For the main course, we provided a classic slow-roasted pig, served with fresh bread rolls, seasonal salad dishes, and homemade fries. This created a balanced and delicious meal for the guests to enjoy. Our hog roasts are a timeless classic that are always loved by guests!
The menu ended with some tasty Hog Roast Lake Vyrnwy desserts, including profiteroles and sticky toffee pudding.
Are there any specific dishes or trends you wish to enjoy during your wedding? If so, take a look at Hog Roast Lake Vyrnwy's variety of menus and see what we can do for you. To begin to plan your wedding package, simply let us know your party size, date, and location and we can book your date!