The team at Hog Roast Bodedern love to get involved with your celebrations, whatever the occasion you can rely on our experienced catering team to put on a show stopping spread for all the guests to indulge on.  With summer just around the corner we can't wait to attend all of your events and join in the celebrations of 2020!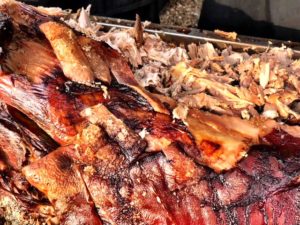 Looking back to an event earlier on this year, we had a fantastic time celebrating with Julie and Mark on their Wedding Anniversary party. We catered for their engagement party and the wedding, this was our third time joining the couple with all of their friends and family. It really was an honour to hear from them again knowing that they loved our services so much we are required once again. Following on from the wedding the guests had so many lovely compliments for our catering team that Julie and Mark knew straight away it was one phone call to the Hog Roast Bodedern team and the catering would be perfect for their anniversary party.
The party was held on a Saturday evening at the local Cricket Club that Mark is a member at, one of the families favourite ways to spend a Sunday afternoon in the summer, watching their sons play cricket. They have a lovely function room, plenty of space for the 120 expected guests and a door leading straight out into the area where our team would be set up. Very convenient for the guests to pop out, collect their Hog Roast Roll and take it back inside in the warmth. Understandably at this time of year they wouldn't want to be dining outdoors!
Before we knew it everything was ready to be served exactly on time, all salads freshly prepared by our Hog Roast Bodedern catering team. The warm new potatoes and succulent pulled pork carved and kept nice and hot. The guests soon began forming a queue, collecting their choice of bread roll for us to pack with pulled pork, stuffing and not forgetting a spoon of apple sauce to really top the roll off! Plated with a few new potatoes and helping themselves to our selection of salads the guests were thrilled as always! I'm sure we will be seeing the familiar faces again soon at Mark and Julies next event.