When Roger asked Hog Roast Tredegar to cater his business event, he wanted us to roast a hog from scratch and make pigs in buns for seventy of his guests. Having enjoyed our famous pigs in buns many times in the past, he knew it was a firm favourite at his car dealership, with employees, colleagues and customers, but he also loves them so much himself that he can't help but dial our number for his corporate hospitality functions as well as any events he puts on for his customers.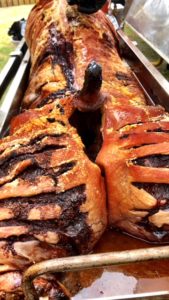 Nevertheless, Roger also knows that some of these employees, colleagues and customers may have dietary needs that need catering, so each time he asks Hog Roast Tredegar to provide the food for his functions, he knows that we will also provide suitable, tasty options for those guests too, each and every time.
For his latest business event, Roger told us he needed a vegetarian option and a dish for a gluten-intolerant guest. For vegetarians, Roger is always happy to order our yummy veggie skewers, which are stacked full of halloumi, mushrooms, courgette, tomatoes, red onion and peppers. In terms of gluten-free options, we can make a fresh, wholesome main course that your guests will love but it may well be useful to know that we can make those guests our pigs in buns too. Hog Roast Tredegar pigs in buns are already gluten-free, with one minor change – we just need to bring along suitable bread rolls, as everything else is already okay for those guests.
When we told Roger that his guest could have pigs in buns too, if they preferred, instead of a different main, he was very happy, so we booked him in for a scrumptious centrepiece hog roast with additional gluten-free bread rolls and our lovely veggie skewers and looked forward to catering for him once again.
We catered Roger's event on Friday afternoon, having arrived at the premises hours before service, in order to start preparing the meat. Several hours later and we had a huge hog resting, just waiting to be carved, and some veggie skewers waiting to be plated up, and it was finally time to serve up some tasty grub to lots of hungry guests.