If you have a passion for making people happy by providing them with great food and service and you will always go the extra mile to make sure everyone has a fantastic time, have you thought about turning your passion into your very own successful catering business? Whether you have been dreaming for a long time of running your own catering business or this is a new goal that you would like to achieve, Spitting Pig can give you the tools and support you need to make it happen. We would like to give you a quick overview of the benefits of becoming a Spitting Pig franchisee and how it could be the opportunity you have been looking for to start your own business!
Do you want the autonomy of being your own boss whilst also having a comprehensive support package and a highly knowledgeable team behind you every step of the way? This is exactly what you will get if you decide to take the exciting step of becoming a Spitting Pig franchisee. You will join a growing network of catering professionals and represent the Spitting Pig brand in your own exclusive trading territory. That means no crossover or competition with other franchisees and the freedom to cater for as many events as you like.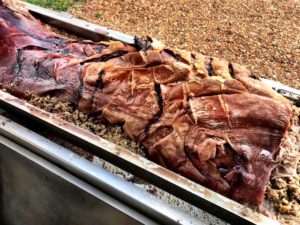 As well as giving you access to all of the necessary catering equipment and supplies, we will provide all the training and support you need to establish, develop and a make a success of your own mobile hog roast catering business. You will receive full initial and ongoing training at our hog roast training academy for you and your staff, in all aspects of running a hog roast catering business. This covers everything from food prep, menu planning and operating the catering equipment to the admin and financial side of the business.
When it comes to marketing, lead generation and bookings, we have got all of this covered too. Our central team will create and update your very own website and social media campaign, and we will take care of managing all of your bookings for you.
If this sounds like the ideal business venture for you, please get in touch with us here at Spitting Pig to find out more about our exciting franchise opportunities!