Hog Roast Amlwch would like to wish all their past clients, loyal clients and future clients a very Happy New Year!
How rubbish it is that the country is back in lockdown BUT, that doesn't mean you can't celebrate special occasions such as birthdays, engagements, or anniversaries at home! Hog Roast Amlwch is offering a delivery drop-off service. It is completely covid-friendly and means that you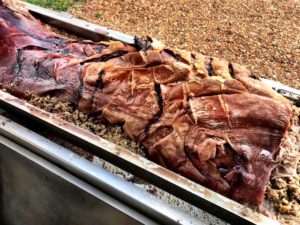 can tuck in to a hog roast in the comfort of your own home! Any menu that takes your fancy can be prepared, cooked and delivered ready and fresh for you and your family to enjoy! Organising a Hog Roast Amlwch delivery means that you can have something special for your celebration regardless of whether you are stuck in lockdown and feel like you can't…. Trust us you can! Whatever menu that takes your fancy from our website can be done to your requirements. The food will be delivered by our catering manager wearing a mask and gloves, with an easy hand-over to avoid any contamination of households.
Recently, Hog Roast Amlwch did a Sunday roast delivery for 10 people for 4pm. The family had chosen roast lamb, a medley of vegetables, golden, crispy roast potatoes, indulgent Yorkshire puddings, warm and tasty cauliflower cheese with a blanket of gravy and a spoon of mint sauce. For dessert, they enjoyed a luxurious, hot stick toffee pudding served with double pouring cream, such a delight. The family were exceedingly pleased with their delivery stating that it was hassle free and completely delicious. A lovely way to celebrate Dad's 50th.
If you want the authenticity of a hog roast, then why not arrange a Hog Roast Amlwch hire? Hire a machine, the pig and gas bottle are included and then cook your own pig and have the smell roaming away in your garden making you and your neighbours tummies rumble and mouths drawl. The machine may not come with a manual, but our catering manager will give you a run-down of how to operate it and how long the pig will need to be cooked.
Lockdown doesn't cancel celebrations, have a good 2021 with Hog Roast Amlwch.