We were contacted recently by a local charity who have several shops in the area, one of which is a specialist antiques shop selling donated curiosities from the past. To give their shop a bit of an extra boost in publicity, they decided to hold a charity auction, with members of the public being invited along to bid on their favourite items. They wanted to make a special day of it and provide some great food that wasn't going to break the bank, and they found exactly what they were looking for in Hog Roast Abersoch!
As well as being great at cooking for a crowd, we are also very good at blending in with any environment we are cooking in and not interfering with the rest of the events taking place around us. This is exactly what the event organisers and we certainly didn't let them down!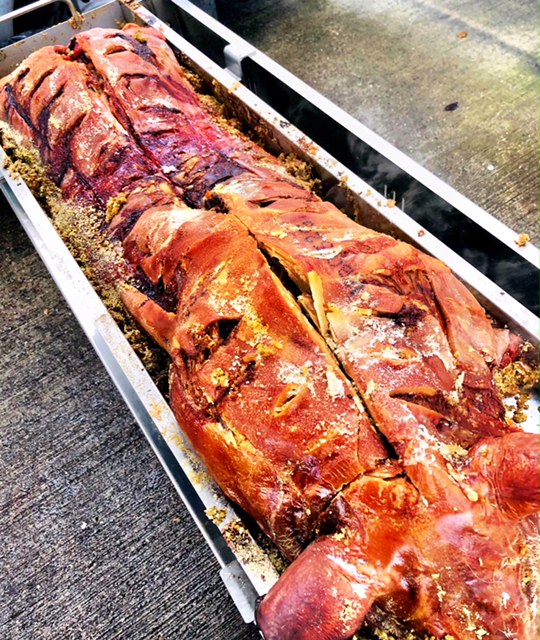 We arrived several hours before the auction was due to start, and set up our equipment in the canteen area, with our service table being tucked away in the corner of the shop for people to come and go as they pleased if they fancied a delicious slow-roasted pork sandwich in between placing bids!
When the doors opened for the main event, the shop was soon packed with people all eager to get in on the action, grab a bargain and make some extra money for the charity in the process. Apart from the irresistible aroma of our slow roasted meat wafting across the room , you wouldn't have even known we were there, and our discreet catering assistant moved like a ninja as he promptly served everyone who wanted to sample our delicious pork!
The afternoon ran like clockwork and the organisers were full of thanks for the way we had managed to provide such fantastic fresh food and serve the steady stream of people who kept approaching our table, without it causing any interference whatsoever with the auction. The day was  huge success and the charity made a lot of extra money, and the Hog Roast Abersoch team were very pleased to have been involved!