Hog Roast Amlwch has 15 years of experience catering for weddings from high-end weddings to more chilled weddings. This time last year the catering manager with his team delivered an Italian-inspired menu for an informal, garden reception wedding for a beautiful Italian bride. The reception was lovely and intimate with 45 guests, most of whom had flown over from Italy.
The main menu entailed two meat options; the whole roasted pig was selected alongside sirloin roasted beef. The guests were thrilled with seeing the whole cooked pig and thoroughly enjoyed the tender pulled pork with all the trimmings! The beef had been requested to be cooked medium well so that there was some pinkness to it, this was served with a red wine gravy and Yorkshire puddings. To Hog Roast Amlwch's amazement, those who had flown over from Italy were clueless as to what a Yorkshire pudding was! It was Hog Roast Amlwch's honour to have introduced them to this classic British food, with most of them giving the thumbs up!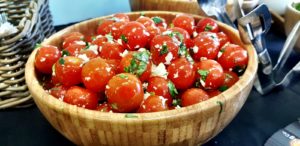 The bride opted for Italian similarities when it came to her side dishes. For instance, she chose Italian-inspired salads, cherry tomato and buffalo mozzarella, pesto pasta salad and classic Caesar salad. All as equally tasty as the other. The tomato and mozzarella salad has a mixture of multi-coloured sweet-tasting cherry tomatoes layered with hand-torn buffalo mozzarella and fresh basil leaves and drizzled with extra virgin olive oil with a sprinkling of sea salt and cracked black pepper. The pasta salad is tossed in a freshly prepped basil pesto with a sprinkling of pine nuts and grated parmingo cheese. The bride specifically requested a vegetarian classic Caesar salad with gem lettuce leaves, garlic and thyme crunchy croutons, creamy Caesar sauce and shredded parmesan cheese. The salads were enjoyed by all guests, but it was an amazing feeling for Hog Roast Amlwch when the elderly Italian guests showered the team with compliments on the food!
Thankfully, the sun was out for the newlyweds and they enjoyed their wedding breakfast with blue skies above, all the food went down marvellously with the guests with people coming back up for seconds and even thirds!