A Hog Roast Betws-y-coed Southern Slow Roast could well be the highlight of your next special occasion, with your choice of three marinated, slow-cooked mains and four sides, all made out of fine, fresh ingredients that are local where possible, including the meat that we source from trusted farmers and butchers. Whichever trio that you decide on from our barbecued pork, sticky pork ribs, Cajun chickens, minted lamb and beef brisket, rest assured that they are all of great quality,
We marinate all three of the meats you choose beforehand in our secret-recipe Hog Roast Betws-y-coed rubs and all are then slow-roasted on the day of your party or event for several hours, resulting in tender morsels that are jam-packed full of flavour. We serve them together with specially-selected sauces, which complement the meats perfectly, including a smokey sweet BBQ glaze, Stubb's Hickory Bourbon Bar-BQ Sauce and a Cajun hot pepper sauce that will surely make your eyes water, so it's truly not for the faint-hearted!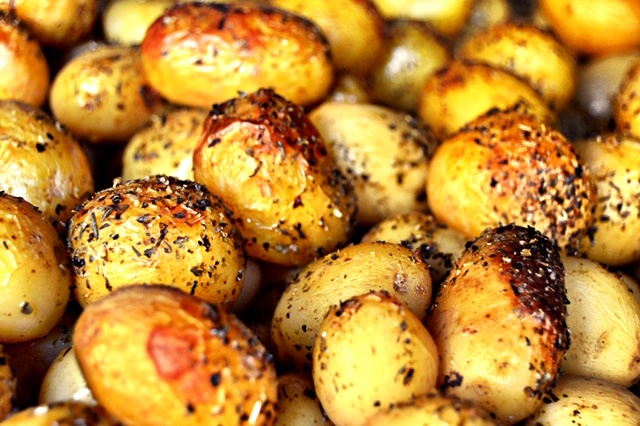 In terms of the freshly-made sides that you can choose, there are nine possibilities and you get to select your favourite four, either hot or cold or a combination of both. There are garden-fresh options of gourmet coleslaw, a Greek salad with feta, tomatoes, olives and cucumber and a seasonal green leaf salad that includes cherry tomatoes, spring onions and cucumber. For potato lovers, we have a combination of sweet potato and traditional fries, roasted baby new potatoes with rosemary and garlic and potato salad, as well as a comforting mac and cheese, corn cobettes with butter and a selection of seasonal vegetables.
Regardless of which three meats and four sides that you choose, we have something that most of your guests will want to devour with this impressive menu. But what if you're inviting guests on special diets? Well, with Hog Roast Betws-y-coed, we've got you covered, as we offer all kinds of delicious dishes to suit all kinds of diets, like vegan pulled jackfruit, vegetarian skewers and even gluten-free pigs in buns. Whether you fancy our Southern Slow Roast or an entirely different menu, call us today and get booked in.