Hog Roast Caernarfon has catered many wedding meals over the years and just recently we were asked to cater Helen and Charlene's special day at Bach Wen Farm & Cottages in Caernarfon's Clynnog Fawr. The cottages at Bach Wen are built on the remains of a 7th-century working farm and they all offer lovely views. In front of the cottages, in the paddocks, there's an amazing view over Caernarfon Bay, Holy Island, and Anglesey, and the beautiful mountains of Snowdonia are in sight too. It's clearly a very romantic place for a wedding.
For their evening wedding feast, the couple chose a wonderfully varied menu that would satisfy carnivores, vegetarians, and vegans. Hog Roast Caernarfon offers so much than our tasty hog roasts, and on this day, Helen, Charlene and their 120 guests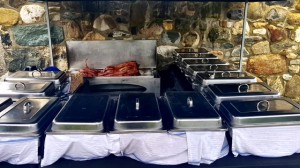 would get to enjoy lots of our culinary delights. Our Menu 1 of pigs in buns is often the highlight of an event, but on this day, these would be featured together with our popular Southern Slow Roast Menu too. The marinated trio of brisket of beef, Cajun chicken, and sticky ribs would provide three more meaty choices, and the sides of corn on the cob, mac and cheese, sweet potato wedges and whole baked potatoes would go down a treat too. Nevertheless, there would also be vegan smoked tofu and vegetable skewers, whole grilled portobello mushrooms and a vegan-friendly pasta salad, as well as vegetarian grilled halloumi pieces to boot! What a fabulous menu, which would ensure no one would go hungry at this wedding reception.
As well as vegan and vegetarian choices, we can make sure other diets are covered too, and for this wedding meal, we would also be bringing along gluten-free rolls, so that any guests with a gluten intolerance or allergy could still enjoy our pigs in buns, as all the other ingredients are already suitable.
Hog Roast Caernarfon arrived at Bach Wen Farm & Cottages several hours before the food service in order to first start roasting the hog and slowly roast the marinated meats. By 5pm, it was time to start serving some gorgeous dishes and by 7pm, the guests had all had their fill.