It's the Easter holidays finally again, and so if you're lucky enough to be off work for a time it's an opportunity to either jet off to sunny sights anew, or if you're staying home at the very least you can kick back and enjoy the break! It's also a great time to catch up with friends and family, or to hold those events that perhaps you had been putting off for a while. And where there are events, there is a need for catered dining, so get to Hog Roast Cyffylliog today to bring the best in catering to your Easter events these holidays!
You needn't jet off to the Mediterranean vistas to enjoy sun, sea, and great eating this Easter when the quality and stylish dining of Hog Roast Cyffylliog can satisfy well enough. Our stylish hog roast menu is a perfect addition to any event, adding a touch of flair and spectacle to any day along with the exquisite tastes to match. Our Alfresco dining menu can give you those sunny tastes of the Mediterranean here at home with our antipasti platter of fine Italian meats.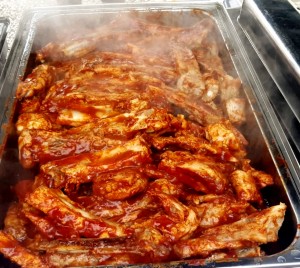 Our Southern Slow Roast menu the tastes of the American south with Texas style briskets, Louisiana stick pork ribs, hot pepper wings, Memphis style crunchy coleslaw, mac and cheese and more All-American classics smoked and grilled in sublime style; or our gourmet BBQ range provides a twist on the British summer favourites, with gourmet sausages, handmade burgers, spareribs, pulled pork rolls, all grilled to perfection via our mobile hog roasting units; or just enjoy a classic Sunday roast for your Easter dinner, though with the Hog Roast Cyffylliog stamp of unique quality on it via our traditionally prepared and cooked hog roast. Whatever you're in the mood for this Easter break Hog Roast Cyffylliog has the means and the skill to provide it!
To join the many others that are enjoying the great tastes of Hog Roast Cyffylliog at their events this Easter break just get in touch with the team today! Message our site, phone us up, or contact any one of our social media channels and we'll be with you as soon as we can be!