An event caterer that you can call upon in a hurry is a useful tool for any business. With a stylish, top-end caterer like Hog Roast Denbigh your business can gain the benefits of professional dining delivered to your office, business events, or client meets. Better catering to these kinds of events could be the difference between a potential client signing off on a deal, or on the morale of your team as our staff lunch gives employees something to enjoy for their hard work. When employed properly from a professional, experienced team like Hog Roast Denbigh your event catering is as vital a tool as your company email – so make sure to get it right today with us!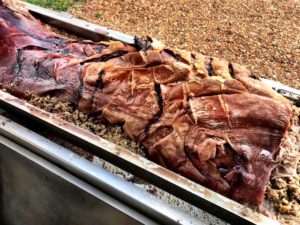 For your events at the office or around town Hog Roast Denbigh are dedicated to providing a stylish dining experience that you might very well call an event of its own. Our unique brand of authentic hog roast dining furnishes events with a touch of style and spectacle; the authentic mode of hog roasting provided by our state-of-the-art mobile hog roasting units makes the most out of your event, adding an exciting display of culinary brilliance that all guests or clients can enjoy. Somehow thereafter the finished results taste even better than the whole experience looks. Your hog roast comes away with a natural flame-licked crisp texturing around the skin, locking in plenty of flavour and that excellent pork saltiness as well as adding a satisfying crunch balanced against the pork meat's more tender, juicy texturing, bursting with immense flavour in every bite and never ever dry. It is magical dining made a reality for your office and corporate events.
Hog Roast Denbigh works with some of the top global brands in business, as well as more local upstarts, and to each we provide top-end dining that they can count on. By working with Hog Roast Denbigh as a business on a frequent basis you can come to expect prioritised service with shorter lead times and quicker turnaround. We'll get to know you as you get to know us, meaning each catered experience only gets better.
By choosing Hog Roast Denbigh today as your catering partner you may well be making your best business decision yet – so why delay today! Corporate catering is available now from Hog Roast Denbigh.