The Hog Roast Dolgellau team had an exciting day on Friday as we had been hired to help out with a retirement party for Andrew, who, at the ripe age of 75, had decided he was finally ready to leave his dream job behind and enjoy his twilight years ticking off the items on his ever-growing bucket list.
His family, and particularly his wife, Eleanor, had been asking him to take retirement for almost 10 years! But Andrew had decided to keep working as he loved being a vet and couldn't imagine his life without the routine he had had for over four decades. However, their nagging eventually paid off, and a few months ago, Andrew found himself agreeing that it was time to hang up his stethoscope and scrubs for good.
To celebrate his last day of being a working man and commemorate her husband's many achievements over the years, Eleanor had organised a family party, at which our Hog Roast Dolgellau catering team had been hired to serve our Southern Slow Roast Menu with a cake service to finish.
Our team had spent hours preparing this feast while Andrew worked his last shift, which meant by the time he arrived home, there was a scrumptious buffet consisting of fall-off-the-bone Louisiana sticky pork ribs, Texan 24-hour beef brisket, Cajun-spiced whole roast chickens and BBQ pulled jackfruit rolls with vegan coleslaw waiting for him!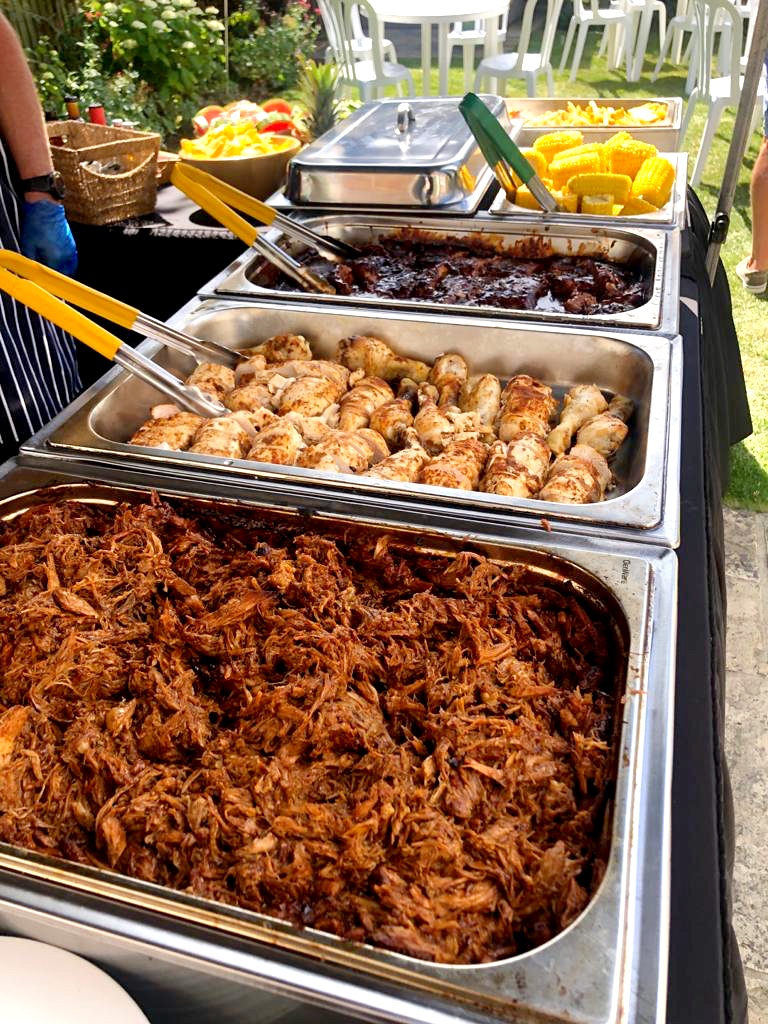 The guests, who had arrived shortly before Andrew had gotten home, had all shouted surprise in unison when the man of the hour stepped through the front door, which rendered him speechless. Hog Roast Dolgellau managed to shake him from his state of shock by presenting him with a plateful of our American-inspired meats, which were served up with Memphis-style crunchy coleslaw, Greek salad, mixed sweet potato and traditional fries and corn on the cob, which dripped with melting butter.
Once Andrew had been taken care of, Hog Roast Dolgellau quickly worked through the rest of the guests, who were all amazed by the incredible flavours of the food! While everyone happily munched away and discussed Andrew's retirement plans, our caterers sliced up the chocolate gateaux that Eleanor har bought specially, and served it as a buffet with ice cream, summer berries and whipped cream.