Hog Roast Gaerwen catering can be the difference between your party or event being a resounding success or not. When it comes to the food served at any kind of special occasion that you might be organising, you want to know that you can count on the caterers that you hire and that you can trust them to provide exactly what you want and need. In terms of variety and choice, we're number one, both locally and nationally, as we offer so much more than the hog and spit roasts that we're famous for, and if your needs include options for special diets or to cater for different personal tastes or appetites, we'll ensure that they are met, and that's simply because we want everyone that you invite to be able to enjoy our delicious food.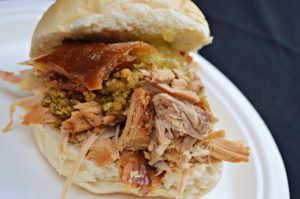 A few weeks ago, our long-term customer Roxanne asked Hog Roast Gaerwen to cater her private party, which she was hosting in a college function room. She knew that our catering would exceed expectations for everyone concerned, with tasty food made from quality, local ingredients, fresh on the day. In the past, Roxanne has asked us to cater with a traditional hog roast centrepiece, either made into heaven-sent pigs in buns or a fantastic plated hog roast meal, but for this occasion, she decided she wanted to try something a little bit different.
We have various standalone menus on offer here at Hog Roast Gaerwen, such as a scrumptious winter warmer or our amazingly versatile Southern Slow Roast, but Roxanne decided she wanted her guests to try our loaded fries, which we recently added to our repertoire. These delicious offerings include freshly-cooked French fries, smothered in a zesty or spicy slaw, cheese that's melted and jalapenos, as well as either pulled pork or beef brisket, and Roxanne decided on our pulled pork version, seeing as she has always loved our hog roasts.
On the day of the party, our team cooked a hog for hours on end, before cooking the fries and adding cheese, spicy slaw and jalapenos, and by the time all of Roxanne's forty guests had arrived, we had a great feast ready to serve.