Step into November properly by indulging in a finger-licking feast from Hog Roast Gaerwen! With winter fast approaching, there's no better time to treat yourself (or your loved ones) to an authentic flavoured spread featuring all of our most popular dishes.
As the nights (and days) get increasingly darker, colder and even more gloomy than usual, you're guaranteed to appreciate the soul-warming effect of our flavoursome foods. Perfect for all sorts of events, or for those 'just because' occasions, hog roasts are a meal that won't soon be forgotten – especially when we're the ones cooking!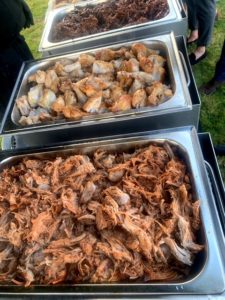 While many of us would love nothing more than to hit rewind and enjoy the lovely summer weather once more, there is one positive thing to come from the pitch-black nights. Right now, they are providing the perfect backdrop for animated light shows! Dazzling colours, festive shapes and upbeat music; this season's hottest trend has been attracting lots of attention lately. And last weekend Hog Roast Gaerwen got to experience the magic for ourselves.
On Saturday, we were invited along to a display in a neighbouring city which brought the whole community together. A socially distanced version of 'together' that is. Tickets for the events had all sold out as many anticipated the gorgeous show and, dare we say it, an even better dinner?!
Serving our classic hog roast menu to the masses via a drive-thru style set-up was easy for the Hog Roast Gaerwen catering crew who used our lightweight HogMaster machine to effortlessly slow roast the ethically reared pig until it reached a drool-inducing shade of golden brown. The juices that dripped from the sizzling meat were then used to cook the sage and onion stuffing, and after hours of roasting over a low flame, the team expertly carved the pig of its crispy crackling exterior. Seasonal veg, coleslaw and a meatless alternative of grilled veggie kebabs were also included on the menu to ensure there was something on offer for everyone's tastes.
The combination of the bright light show and tasty food drove the attendees wild as they travelled around the venue, keeping everyone in high spirits.