When Nancy contacted Hog Roast Llandrindod Wells a few months back, it was on behalf of her clients who were getting married and had hired her as their wedding planner. We often get calls from wedding planners rather than the bride and groom themselves, as their services can take a lot of stress off you, just like ours can. Us organising the food in advance of your big day and then preparing, cooking and serving on the day means you can relax together with your guests, regardless of how formal your wedding day is.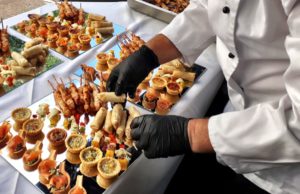 Nancy told Hog Roast Llandrindod Wells that while her clients' wedding day would be informal, it would incorporate formal elements, such as featuring canapés. You may not know that we can provide such fancy creations, which are handmade by us, and we have lots of different options that we can serve, including vegetarian ones. We don't just cook hog and spit roasts – we cook all kinds of hot food and prepare all types of cold food if needed too, and we ensure that everyone invited gets to eat that delicious food by catering various special diets too.
We told Nancy all about what we can provide, and she said it sounded perfect for the couple, as they wanted canapés to be served together with wine and orange juice when the guests arrived (and we can provide waiter service), followed by a sit-down starter of tomato soup and fresh bread rolls, a traditional centrepiece hog roast to be served buffet-style and then finally a dessert selection served to the tables.
On the day of the wedding, our Hog Roast Llandrindod Wells chef and team members arrived hours before the happy couple and their 30 guests, so that we could set up our equipment and start roasting the hog, which takes several hours to cook to perfection. Sometime later, we got busy making a selection of five canapés, fresh tomato soup and our homemade profiteroles (the latter we would serve alongside their wedding cake), and then nearer the time of service, we made sure that the ingredients for the pigs in buns were ready too.
By 6pm, it was finally time to serve the drinks and canapés to welcome the guests to the lovely wedding.