While it may sound like an old fashioned pastime or way to spend an evening, there was nothing stuffy about the latest event catered by Hog Roast Llandyrnog. The whole event was a thoroughly modern, loud and enjoyable affair where 22 guests could share with their fellow poets their work. It was a celebration of the written word and Hog Roast Llandyrnog were delighted to be a part of it.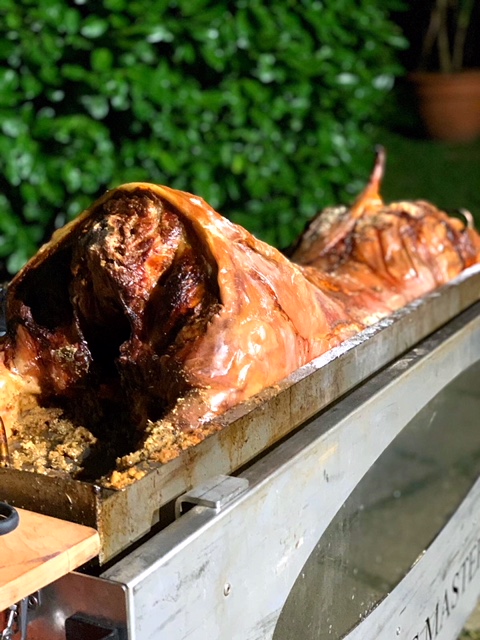 The clients wanted the team to provide a hearty, vibrant buffet for their 22 guests at the community centre. The team would have plenty of space to work in, so when they set up several hours before the 8:30 serving time they could get straight to work making the delicious dishes.
The clients worked closely with the team to put together a menu that would appeal to all of their guests, regardless of dietary requirements. The theme of the evening had been extended into the buffet plans, it had to be open and inclusive of all; welcoming. As such, the clients were very happy when the Hog Roast Llandyrnog came up with the menu.
The buffet table would be laden with heavenly Texan 24hour Beef Brisket, that had been slow roasted and permeated to achieve a full, mouth-watering flavour. In picture perfect platters beside this there would be colourful tomato and mozzarella salad, corn cobettes, crunchy coleslaw, Mac and cheese, grilled vegetable skewers and Hog Roast Llandyrnog favourite: truly tempting loaded fries. There was also a basket of soft gluten free rolls that the guests could tuck into if they wanted. It was a feast for the eyes as well as the tummy.
Once the buffet had been demolished by the ravenous writers the Chef discreetly tidied away. The wooden crockery and cutlery provided by the team was loaded away so that it could be washed and reused at another event and all the rubbish was disposed of by the Chef. The clients were satisfied at the job done by Hog Roast Llandyrnog, it had really added to their poetry evening.