Not many can say that they are happy going to work but we are! We love our jobs aT Hog Roast Llandyrnog; we get to meet lovely people and cook delicious food- it's more pleasure than work! This week we were out catering for a baby shower so we were very excited for the day!
We drove up to an enormous farmhouse a sight to see and greeted by a lovely heavily pregnant young lady who looked like she was ready to have the baby there and then! She showed us to the back of the property and she told us that she did not know the sex of the baby as she wanted it to be a surprise and it was her first. As we were chatting the staff were on their game machines set up meat on to cook and the tables set up and dressed she gave us a bag of trinkets baby themed and asked if we would dot them on the table to which we did.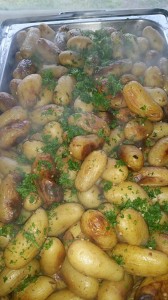 Beef and lamb were the meats chosen for this Hog Roast Llandyrnog and in no time the air was filled with the pleasant smell of meat. We brought a huge sack of our buns freshly baked and started to prepare the potatoes seasoning with lots of lovely herbs. Our staff started to chop, dice and slice the array of salad vegetables and put the salads in beautiful bright coloured bowls and made an assortments of dressings too. We pride ourselves in our special chutneys an old family recipe of mine and one that is always a hit.
Before we knew it the meat was cooked and our carver set to work carving the meat the slices were thick and juicy and the meat carved like butter so soft and succulent. We let the meat rest for a minute of two before our staff placed it on big serving dishes and handed it around to guests the host loved the food and said she'd like more as she was after all eating for two! We said our fair wells and headed home and asked the lady to drop us a line to let us know when she has the baby as we are eager to know if it's a boy or a girl she said she would and will be booking us for the christening so nice when customers come back time and time again and lots do more we class now as friends we so love our job!