Hog Roast Llanrwst is well-known as a team of professional caterers who will stop at nothing to ensure that tasty food is enjoyed by all our customers and their guests. This means that we cover all kinds of personal tastes and dietary needs, and when it comes to the latter, that includes vegetarian, vegan and gluten-free diets, and if you have any such requests, we just need to know in advance of your event or party when you book, and everyone will have something lovely to eat on the day.
For a wedding that we catered locally recently, at the charming Hafod Farm on Betws Road, we provided our Hog Roast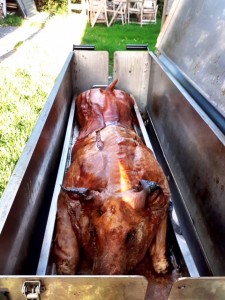 Llanrwst Menu 3 with a hog roast and accompanying dishes, as well as a vegetarian option. Our veggie skewers are a big hit with our customers and their guests and feature halloumi cheese and various vegetables all grilled to perfection. Our Menu 3 itself is very popular, often for wedding meals, where you can choose homemade canapés to be served with a reception drink if you like, a buffet meal with a main course and your choice of seasonal vegetables or various salads and a potato option and even a dessert if preferred.
For this wedding feast with 70 guests, we were asked to slow-roast a hog, which we do for several hours on-site, cook potato wedges and the veggie alternative, and put together some garden-fresh salads including a tomato and mozzarella salad, a mixed salad, and our homemade coleslaw.
The pretty venue itself, Hafod Farm, can be found in the heart of the Conwy Valley in the Snowdonia National Park. On the day of the wedding, our Hog Roast Llanrwst team of Nicki and Helen arrived in plenty of time, to set up our equipment before preparing the meat. Once done, we let it sizzle away for hours on end but kept a careful eye on it, to ensure it was cooked thoroughly. Nearer the time of service, we cracked on with cooking the skewers and wedges, made the salads, dished up the sauces and sliced the bread rolls and by 6pm, we got ready to serve the guests some of our mouthwatering fare.