If you're planning a party in advance and you need it to feature some tasty, fresh, homemade food, Hog Roast Menai Bridge is the perfect choice. We've spent many years now making our signature hog roasts but we also cook all kinds of spit-roasted meat too, including lamb, beef, turkey and chicken, and we can help you to design a menu that ensures that all of your guests can enjoy our lovely food.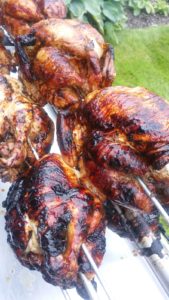 We've catered for long enough to know that special diets always need catering but also personal tastes need to be covered too, and that's why we have a variety of menus full of choice for all kinds of both. If you're inviting vegetarian guests, our chefs can whip up a homemade quiche, veggie burger or stuffed mushrooms or peppers, and we can adapt dishes to suit vegans too. Gluten-free guests can enjoy our famous pigs in buns, just with suitable bread rolls that we bring along on the day, and no-one would know you were eating anything different. Plus we have a whole array of additional and alternative options on offer, including barbecued meat and marinated meat dishes, just in case you need something other than or as well as a hog or spit roast.
For Timothy's private party that Hog Roast Menai Bridge catered at the weekend, he asked us to cook our amazing Southern Slow Roast Menu for his fifty guests. With your selection of three marinated meats and four sides, this menu is great for giving your guests plenty of variety and choice and the vegetarian option of veggie skewers is often welcomed too. Timothy asked us to cook sticky pork ribs, spicy whole-roasted chickens and barbecued pork butt, for us to serve alongside coleslaw, corn cobettes, spicy sweet potato wedges and mac and cheese, and to also cook the skewers for two vegetarians.
On the day of the party, our Hog Roast Menai Bridge chef and assistants set up our equipment at the venue, a local hotel with lovely grounds. We set the temperature low and before long the three meats were sizzling away for a long time. Nearer to the time of service, we cracked on with cooking the kebabs, wedges, corn cobettes and mac and cheese and preparing the fresh coleslaw, and then by 5pm, the queues began and we were busy making sure that everyone's hunger was satisfied.