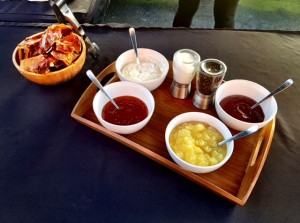 Here at Hog Roast Minsterley, we recently catered a 40th birthday party in the lovely Shropshire village of Minsterley, which is just a few miles from Shrewsbury. While we mainly cater events and parties in North Wales, we do also venture further afield and that includes functions in England, like this particular celebration, where Vicky asked us to provide our Private Party Menu 1 for around 50 guests. This menu is our simple but very tasty pigs in buns (that's what we call hog roast rolls), where we slowly roast a hog at your venue for a few hours before filling bread rolls or wraps with meat, crackling, stuffing and apple sauce. Both the stuffing and apple sauce are homemade, like most of the scrumptious food that we provide, and we get the crackling by smothering the meat with lots of salt before cooking.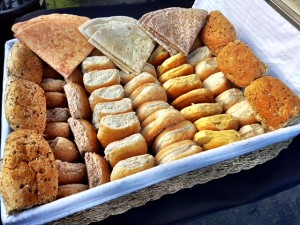 Hog Roast Minsterley arrived in the afternoon to prepare the meat for its roasting and we set up our trusty hog roast machine and serving table under our gazebo and got to work. For this lovely party, we provided several kinds of bread rolls and wraps for the guests to enjoy their meat with. Variety is the spice of life and here at Hog Roast Minsterley we always try to ensure that variety is offered, whether with simple things like the bread or condiments, our huge choice of menus or with providing plenty of alternatives for those guests with dietary needs. If you're vegetarian or vegan, we can cook mouth-watering homemade dishes such as stuffed peppers or mushrooms or a spinach quiche. Gluten-free guests can easily enjoy the same hog roast rolls as the other guests, just with suitable bread rolls instead. Plus if you have any other kind of diets that need catering, just let us know and we will do our utmost to make sure all your guests are well-fed.
By late evening, after 8.30pm, the guests must have been champing at the bit to dig in to our delicious pigs in buns, so we started carving into the meat to fill the buns and wraps to satisfy everyone's hunger.