On Friday hog roast Prenton kicked the weekend off early, catering for a corporate event at Scantec Recruitment Agency which is situated not far from the ferry terminals. It was an early start as they wanted service at 12 noon – 2 p.m. We left our depot at 4 o clock with a fresh free range hog which we cooked fresh on-site. Our first job on arrival was to start the cooking process which takes between 6 to 7 hours depending on conditions. Friday was full of heavy showers and blustery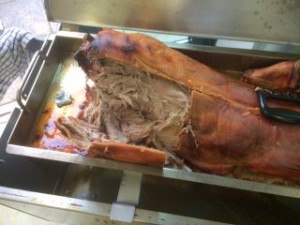 winds for us to contend with. hog roast Prenton prepared a Gourmet Menu 3 and the staff started to arrive approx. 7.15a.m they were greeted with the aroma of a spit roast hog slowly cooking in our spitting pig machine.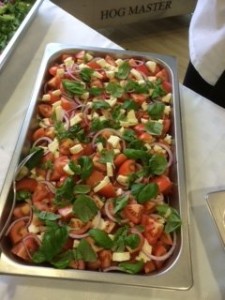 We then proceeded to prepare the salads freshly on site from our kitchen van in readiness for their meal. The meal was to be served in two sittings one at 12 the second at 1p.m.  And all the staff commented on how much they had enjoyed the meat and fresh salads. They were really appreciative and very helpful throughout the day providing us with hot tea to warm us up in the adverse conditions. When the meal was ready hog roast Prenton transported everything inside to the service tables where it was presented on white crisp linen.