This year, Kieran and Abby wanted to celebrate bonfire night in style and so have invited lots of their friends round to their farm for a bonfire. Abby had organised toffee apples and decorations, while Kieran had been ensuring that the firewood was drying out quick enough for it to be used on their bonfire. In addition, the couple had also been constructing a small dubby of Guy Fawkes to sit atop their bonfire and had just completed the finishing touches. However, they were having their bonfire in the evening and so felt that they had to provide some food for their guests. After deciding that home cooking their own food was not an option as they would have to closely monitor the bonfire, they invited the Hog Roast Pwllheli team to come and help them celebrate.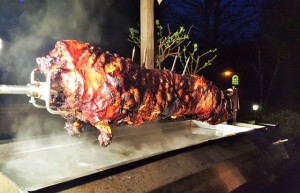 Throughout the day, Kieran and Abby worked hard to set up the bonfire and sat their Guy Fawkes dummy atop of it. When the Hog Roast team arrived, they set up outside and began to assemble their Hog Roast as the first of the guests arrived. The atmosphere of the crackling Hog Roast provided a fantastic rustic spin on the traditional celebration. Once all the guests had arrived and Abby had distributed her toffee apples to the children, Kieran set the bonfire alight. The guests enjoyed the warmth from the towering bonfire.
Soon after, the Hog Roast Pwllheli team served up their fantastic Southern Slow Roast menu on a fantastically presented authentic buffet. The guests enjoyed the food and it definitely warmed them up just as well as the bonfire. The team received fantastic feedback on the food and Abby said that the meat tasted really fresh and it was beautifully tender. The Hog Roast Pwllheli team worked hard through the chilly evening and provided a really smooth and energetic service for the guests. Kieran and Abby's bonfire party was a raging success and the couple were very impressed by the efforts of the Hog Roast team. They would definitely recommend the Hog Roast, especially the Southern Slow Roast they selected, and would definitely hire them again.