With some good weather finally, forecast and just in time for the bank holiday there simply couldn't be better timing for a Hog Roast Ruthin BBQ!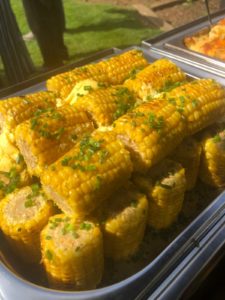 When we received the enquiry from Grace asking us to come and prepare one of our fantastic Hog Roast Ruthin BBQ's over the bank holiday weekend we simply couldn't refuse! Grace had asked for our simple BBQ menu encompassing all the classic favourites such as butcher's selection burgers, juicy sausages and of course, asked for a portion of our slow roasted hog meat as a special treat. Our Hog Roast Ruthin also made provisions for any vegetarians who might be attending by preparing some of our luscious halloumi and vegetable skewers that we would be BBQing on a separate grill. Of course, no BBQ is complete without some crunchy corn on the cobb and a vibrant array of salads which our team work hard to perfect.
When Saturday arrived, we were up bright and early to set off to the venue, luckily the beaming sunshine made the early start a little bit more bearable! Having arrived at Grace's home by mid-morning we set up our Hog Roast Ruthin machine and got our pork on to roast to give it plenty of time to become tender and succulent. Next, our chef set up the BBQ attachment on our roasting machine. This transforms the machine into the most efficient and durable BBQ on the market. With plenty of space to cook all of our produce we would have no problem in keeping everything sizzling away until grace's guest arrived for serve time.
Bang on time grace's guests arrived at 3'o'clock and we were already inundated with requests for a taste of our BBQ selection. With nonstop serving, we were all out of food within the hour as the guests had helped themselves to second and even third portions which we love to see as it means people are enjoying our food!
Here's hoping for another splash of good weather and another Hog Roast Ruthin BBQ soon!