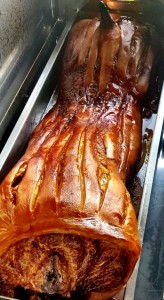 Especially when we're busy all over the UK in the sunny weather, Hog Roast Worcester often caters parties and events in different parts of the country, and sometimes other franchises cater for us here in Worcester. Just recently, the North Wales team covered an event on behalf of Hog Roast Worcester, cooking up a storm at the historic Shelsley Walsh Speed Hill Climb. If you're local, you'll know that it's the oldest motorsport venue in the world that still uses its original course. For well over a hundred years, world-famous drivers have been attracted to the course, which is located in a gorgeous countryside location in the rolling hills of the county. Shelsley Walsh offers so much for drivers and spectators, including hill climbing competitions (which is where drivers race to the top), sprints, sporting trials, experience days and hospitality events, but on this particular day, the North Wales team would not be racing to roast a hog, but rather slow-roasting it to perfection so that the 35 guests could enjoy our delicious pigs in buns.
With the menu chosen for this event, our Private Party Menu Option 4, Hog Roast Worcester also provides three freshly prepared salad dishes and warmed new potatoes in a herb butter. On this day, the North Wales team would be supplying a mixed salad with various lettuce varieties, tomatoes and cucumber, our homemade coleslaw, and a spicy Thai salad, all put together with quality, garden-fresh ingredients and prepared just before service for optimum freshness.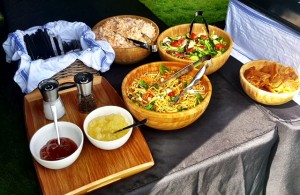 For the lunchtime catering, the North Wales team needed to arrive early in the morning to set everything up and start preparing the hog to be roasted. After scoring the meat then adding water and salt, the temperature was set, the machine was turned on and then they kept a careful eye on it as it cooked. Nearer to serving time, once the hog was resting and the new potatoes were done, it was time to prepare the lovely salads, slice the bread rolls and dish up the sauces. By 12pm, the guests were all munching away on our slices of heaven.