Our long-time customer Phillip has hired Hog Roast Welshpool for various different occasions in the past, both for work and in his personal life. We often cater private parties like birthdays and weddings but we also provide top-notch corporate hospitality too, creating tasty dishes for both large and small functions, regardless of formality. For Phillips's company events, we have cooked all sorts of scrumptious food for him and his guests and not just hog roasts, but plenty of other dishes. We cook amazing spit-roasts too, like turkey, chicken, lamb and beef, and sometimes we're asked to cook something a bit more adventurous, like deer. We can barbecue ribs, our own gourmet sausages and burgers that are 100% beef and we can even serve a fantastic menu that gives you three meats and four sides – our Southern Slow Roast.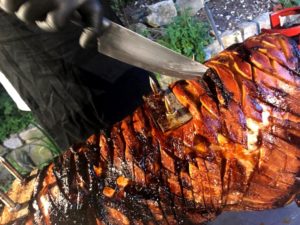 Nevertheless, Hog Roast Welshpool is often asked to cater with a simple menu of pigs in buns. The menu may be simple but the pigs in buns are anything but! We carefully prepare the meat before roasting, by scoring all over and adding lots of water to keep it moist and then we add lots of salt, which produces the crackling. Once our trusty hog roast machine is turned on and set to a low temperature, we cook the pig for hours on end, while we keep a watchful eye over it, and then once perfectly cooked both inside and out, it needs a rest. A short time later, we carve off the crackling, carve up the soft, tender morsels of meat and add bits of both to fresh bread rolls and finally top with our own apple sauce and sage and onion stuffing. This is exactly what Phillip asked us to make for his most recent event.
Once our Hog Roast Welshpool chef and catering assistants arrived at the business premises venue earlier today, we set up our equipment outside in the grounds and quickly got to work on preparing the meat.
By 3pm, after hours sizzling away, it was ready for us to carve and serve to the fifty guests, and Phillip was first in the queue, ready to devour his favourite food.