Prebooking your Christmas party catering is essential to avoid missing out, especially if you want to ensure you end up with the right menu options for your guests. Here at Hog Roast Aberffraw, we take Christmas very seriously. We know it is the season to spend time with your friends and family and we enjoy getting to be a part of your celebrations, by providing delicious meals! If you are looking for a caterer for your Christmas party, here is what Hog Roast Aberffraw have to offer for you.
Juicy turkeys 
The way we cook our turkeys leaves them tasting deliciously juicy, rather than the bland and dry flavours that sometimes happen with an oven-cooked bird. We cook our turkeys up to 35 at a time, with a delicious blend of herbs and spices, basted with natural juices while they slow-roast on our rotisseries. This guarantees that every turkey we cook will be beyond satisfactory and far better than any you could buy in a supermarket to cook at home.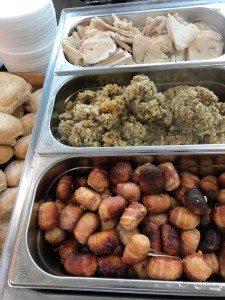 Festive dining experience 
Not only do we pride ourselves on creating delicious food for every event we cater to, but we also provide a festive dining experience that can't be found elsewhere. Here at Hog Roast Aberffraw, we know the importance of family and how special it can be to enjoy a Christmas meal together, so we do all we can to ensure your event runs smoothly and successfully.
Delicious menu options
On top of our usual Hog Roast Aberffraw menu, at Christmas, we offer a traditional main course with all the trimmings, served with your choice of meat. At Christmas we know that the trimmings are just as important as the perfect turkey, so we provide a full list, including pigs in blankets and cauliflower cheese. We also provide fresh mince pies, with the option of adding mulled wine to your package if you wish.
We hope you are enticed by what Hog Roast Aberffraw has to offer. To book us for your Christmas 2021 celebrations, simply get in touch today and let us know your date, location and party size. We hope to hear from you soon!