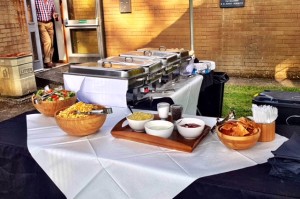 There's nothing quite like surprising someone on a special occasion with a sumptuous hog roast cooked from scratch. A centrepiece hog roast will amaze and thrill your guests, and the aromas wafting around will tempt them no end while it's roasting away but it's no use trying to hurry our team at Hog Roast Llanfechain, as you can never rush a hog roast! It needs to be cooked slowly and surely for hours until just right, with a crisp outside and a juicy inside, and once done, only then can you satisfy that hunger.
Just recently, Hog Roast Llanfechain had the pleasure of catering a surprise party, as our customer Andrew organised a 40th birthday party for his wife. There would be 70 guests to feed by evening time, with our gorgeous pigs in buns as well as some salad dishes, so we arrived hours before in the early afternoon in order to prepare and then roast the pig. It may be useful for you to know that we have many menus for you to look through and choose from but we also encourage our customers to create their own bespoke menu if preferred, so that your party or event features exactly what you want served to your guests. Nevertheless, in this instance, Andrew knew that his wife would love a hog roast surprise, so on the day, we headed locally to the village hall to start preparing the meat to be cooked.
The location of the party was Llanfechain Village Hall, which hires out a great space to Powys locals for private parties and events. It's also known as the Llanfechain Memorial Hall, which came about after locals raised a staggering £400,000 to renovate and extend its old community centre, which had become fairly rundown. Both the Big Lottery and the Welsh Assembly Government's Community Facilities and Activities Programme gave large amounts of funding to the project, and the hall was opened in 2010.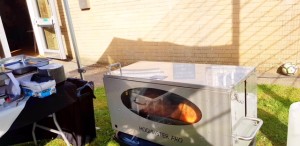 After preparing the meat and cooking the hog for several hours, the Hog Roast Llanfechain team freshly prepared the salads and neatly set out the condiments, apple sauce and stuffing, and by 8pm it was time to serve the surprised birthday girl and the hungry hordes.