When Hog Roast LLanarmon provides the catering for you and your guests, you're greeted by friendly, dedicated professionals who go the extra mile to ensure your party or event is a big hit in terms of gorgeous food. Our excellent service and yummy, fresh, homemade dishes are the main reasons why we have so much repeat custom and why our customers recommend us to others. Whether you're planning a milestone birthday party at home with family, a huge corporate function with hundreds of guests attending, your wedding reception in the gardens of a local hotel or anything else that you can think of celebrating or commemorating, we have the experience, knowledge and ability to help ensure its success.
Hog Roast LLanarmon was recently asked to cater a 16th birthday party at the Mehra family home, which is local to us, for 40 invited guests. In addition to one of our sumptuous slow-roasted hogs, we would be cooking our tasty new potatoes and a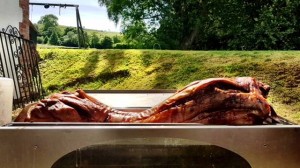 lovely vegetarian option of veggie skewers, as well as putting together a mixed green salad, a tomato and mozzarella salad, and our homemade coleslaw. We have many more culinary options than you may have imagined, as we want all of our customers and their guests to love our food, so knowing that variety is key, we have plenty of menus and suggestions for your special occasion. From vegetarian and vegan dishes to gluten-free or dairy-free choices, we have a multitude of homemade meals that will make sure everyone is well-fed and more than satisfied on the day.
When it comes to the hog itself, Hog Roast LLanarmon roasts it for a few hours at your venue, after preparing the meat by scoring it, covering it in water and then adding salt all over. The latter part gives us all that crispy, crunchy crackling which is loved by many, especially inside our pigs in buns. On the day of the birthday party, we roasted a pig to perfection outside in the sunshine, and we were glad of our gazebo shielding us. Between 3pm and 4pm, we served the guests plenty of lovely food, including seconds and even thirds.