If we have each learned one important thing this past year, it's that life is far too short and too unpredictable to spend the entirety of it doing something you don't have an ounce of passion for. So, this is your sign to start doing something you really love – like take on a catering franchise, perhaps?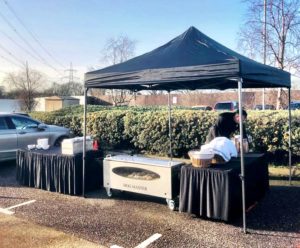 Here at Spitting Pig, we are always on the lookout for fresh new faces to join our ever-growing family – because that's what we are here, a family. Our staff are more than just another cog in the machine. They are our driving force and the key to our success. As such, we invest a lot of time, energy and money in each of our franchisees, ensuring they are fully equipped with the skills and information necessary to thrive in the industry by way of our exceptional mentorship and training programs.
And we're not just looking for those with time served in the hospitality sector. At Spitting Pig, we welcome everyone on board so long as they show all the right qualities, i.e. passion, determination and motivation. If this sounds like you, then we'd love to have you join the Hog Roast Benllech team!
In return for all your hard work and dedication, you can expect a fantastic work-life balance, where you create your own hours and can even work from home. Even if you're just looking to go part-time, to begin with, we can accommodate this with ease. As a Hog Roast Benllech caterer, you'll also have access to a support network, made up of 28 other franchisees, so you can benefit from their advice whenever you need it. In addition, we'll supply you with a steady flow of leads, helping you achieve a year on year profit growth.
Whether you've always been interested in running your own catering business or are simply looking for a new challenge, Hog Roast Benllech would love to hear from you. And with lockdown easing, our phones have been ringing off the hook lately, so now really couldn't be a better time to make that leap! For more information, contact us today or have a read through our franchise prospectus.