At Hog Roast City Dulas we have a broad selection of menus, with different styles suitable for different events. Reading menus online and seeing the dishes available can make it even harder to choose which is right for you- especially when we have so many incredible options on offer! Here is a description of some of Hog Roast City Dulas' most popular menus, to help you choose which one is right for you…
Classic Hog Roast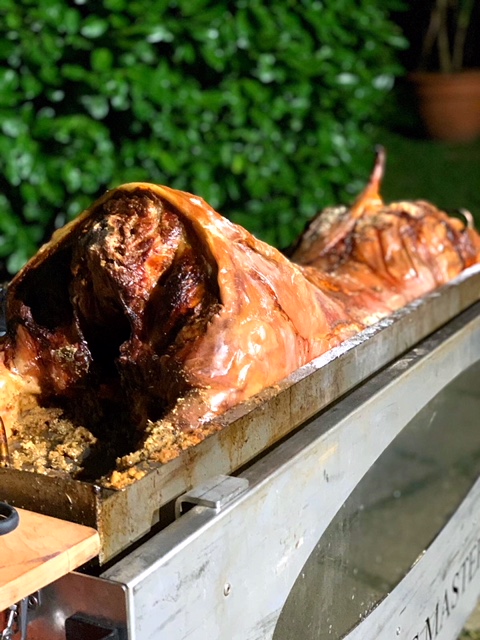 This menu is a Hog Roast City Dulas speciality. It consists of a slow or spit-roasted pig, cooked to perfection over the course of the day. your pig is served with fresh applesauce and homemade stuffing, as well as deliciously crispy crackling. Once sliced, the meat is served in a selection of fresh bread rolls and wraps, creating a perfect lunch or supper!
Southern Slow Roast Menu
The southern slow roast menu includes your choice of 3 types of meat from the following list: BBQ pork butt, Texan beef brisket, Cajun chicken, Louisiana sticky pork ribs, and minted lamb. Every meat is roasted slowly throughout the day and served with your choice of sauce or marinade. Along with your chosen meats, you will also receive a selection of side dishes and salad options from our available list.
Alfresco Menu
Our alfresco menu features an incredible sharing platter starter, consisting of a selection of fine cheeses, bread rolls, vegetables and sliced meats. Your main course is similar to the classic hog roast menu, also featuring your choice of side dishes and salad options. The menu is finished with your chosen desserts. Some of our most popular dessert options include fresh fruit salad, profiteroles, cheesecake, sticky toffee pudding and summer pudding.
Hopefully one of these menus sounds right for you. If not, don't worry- we still have many more options available to view on our website. If you have to need a caterer for your upcoming event, get in touch with Hog Roast City Dulas today. Simply let us know your party size, date, and location and we can get you booked in.