If you are looking for a passionate and professional catering company who can provide an impressive menu and exceptional service for your event in North Wales, the Hog Roast North Wales team are it! Not only are we the leading hog roast company in North Wales, we are also able to offer comprehensive catering solutions for events of all sizes, themes and styles across the region.
Superior hog roast catering for any occasion

Our hog roasts are a brilliant outdoor dining solution for any event in North Wales. Our superb free-range pork is always expertly cooked by our highly experienced hog roast chefs on-site, aided by our state-of-the-art catering equipment. It makes an impressive centre-piece that tastes even better than it looks, and our diners appreciate watching our delicious meat being prepared and carved right in front of them almost as much as they enjoy eating it! One of our mighty hog roasts in a very cost effective, high-quality way of feeding a large amount of people for a public event, and thanks to our varied catering packages, our food is also ideal for smaller parties and events that require a more formal and sophisticated feel too.
A bespoke catering package for your event
Although we are predominantly hog roast specialists, here at hog Roast North Wales, we have never limited ourselves to only catering within our niche. The variety of our food reflects the diversity of our clients in North Wales, and we are updating and expanding our menus on a regular basis. We offer bespoke menus for a wide range of events in North Wales, and we have diverse catering packages to suit all budgets for weddings, corporate entertaining and private parties.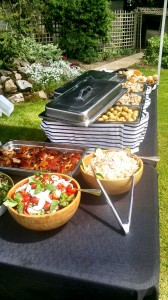 As you will see from the set menus we offer, we have plenty of choice to please all of your guests and accommodate different dietary needs. If you prefer, we can create a menu that is entirely unique for your event, brimming with delicious dishes that will delight everyone. Our food is varied, vibrant and freshly made on-site. We celebrate the abundance of lovely local produce that is available in North Wales and we use these superior ingredients as the foundation for all of our food.
There is nowhere better than North Wales for hosting an outdoor event. Whether you prefer the coast, countryside or the mountains, there are so many wonderful places to choose from that the only problem you will have is deciding which scenic setting you would like for your event! Wherever in North Wales you are hosting your event, the Hog Roast North Wales team will be able to cater there. Our equipment can be easily transported to just about any location in our region and our catering team are able to conjure up fantastic freshly made food in any setting too! If you hire us to cater for your event, the Hog Roast North Wales team will ensure that the food for your event is as memorable as the view!
Hog Roast North Wales machine hire service
Cooking your own hog roast is the ultimate way of doing your own catering for your party. If you want to provide some great food without having to miss out on all the fun by spending your entire party cooking, hiring a hog roast machine from us is the answer. As well as making a great focal point for your guests to gather around, the results it will produce will certainly make your party one your guests will remember!
Don't worry if you haven't done much catering yourself before because all of our hog roast machines for hire are designed to make life as easy for you as possible and take care of most of the cooking for you. We have models available for hire that can cook different volumes of meat, as well as having the option of various attachments if you would like to prepare other dishes too. We will bring the machine to our venue for you and give you all of the advice and reassurance you need to feel confident cooking your own hog. We will also come back to pick it up after your event and we will even take care of cleaning it too.
Get in touch with Hog Roast North Wales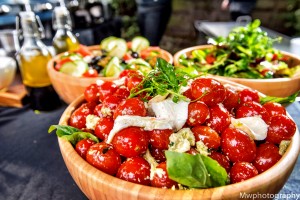 Whether you would like to benefit from our broad-ranging catering packages and highly professional event catering standards for your event, or you would prefer to do your own catering by hiring a hog roast machine from us, Hog Roast North Wales are here to meet all of your event catering requirements.
If you want help in planning your menu, you would like to find out more about any of our services or you would like a free quote for your event, please feel free to give us a call, send us an email or fill in the simple form on our website. The Hog Roast North Wales team are looking forward to hearing from you soon!