The Best Hog Roasts In Aberystwyth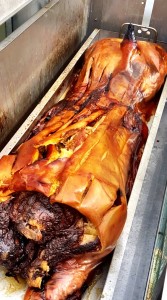 The historic market town of Aberystwyth offers a unique setting due to it being rather isolated. However, locals and tourists do not need to worry about having to travel far out to find an interesting backdrop for an event, as the town is a thriving holiday resort that has much to be explored. Aberystwyth is packed with buildings and landmarks that enable you to explore the town's early and modern history. Aberystwyth is a major cultural destination and is known for its selection of art galleries and live music events. It is the town's landmarks and unique scenery that have made it a popular setting for many fictional works. The town's university, which was founded in 1872, was attended by many now successful poets and writers.
There is no shortage of interesting sights and venues in Aberystwyth, which means that planning an event in the town is easy. The town offers some glorious views and if you opt for a hog roast for your event, you can create something truly unique. Hog roast Aberystwyth offers the perfect opportunity for you to experience something a little different in this idyllic, historic holiday resort.
Aberystwyth is a town that is especially popular with students and in addition to its seaside facilities, it also has many cosy cafes and bars to explore. The town is full of life and is the perfect destination for socialising. If you are organising a student event, then a hog roast machine is a must. Hog roast hire Aberystwyth will enable you to host an outdoor event that will create a lively atmosphere for students.
Leaders In Our Field
A hog roast can provide whatever style of meal you desire for your event. As well as a more interesting alternative to standard buffet fare, a hog roast can also provide a three-course meal if you are planning a formal sit-down event. In addition to a main meal, you can also choose from a selection of starters and desserts. Although appetising and fulfilling on its own, a hog roast provides a real feast when paired with other foods. Even if you just wish to opt for a simple hog roast buffet rather than a dinner, you can still select other foods from the menu to add a little bit of variety to the buffet table.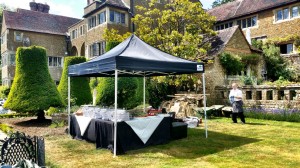 Hog roast hire has become a desired option for those that own their own catering business and for those that wish to hold their own events at home. Whether you are a fledgling company wishing to attract the attention of your customers or an established business planning an outdoor event, hog roast hire Aberystwyth is a service that will provide maximum quality and, thanks to the many additional features now available on spit roast machines, maximum quantity. You can create a real display for your hog roast event and have more than one animal cooking at a time.
Hog roast catering offers so many benefits that it has become a popular choice for many different occasions. It's easy, tasty and offers so much more than the usual type of catering. It is a particularly convenient service for those looking for something that fits their price range whilst still offering only the best quality food for their guests. Even if you are planning to do everything yourself, you can still receive help and have your hog roast machine brought to you, which is ideal for pub and restaurant owners that want a hog roast machine delivered quickly to their premises. Your hog roast event doesn't stop at traditional meats. You can even have something completely different and opt for fish instead, which is quite appropriate for a location such as Aberystwyth, as it is a popular fishing location and a great place to enjoy some delicious seafood. Whatever your choice, you can enjoy a selection of food that has been seasoned to provide only the best flavours.
A hog roast is a cost-effective way of feeding lots of guests, so if you want your Aberystwyth event to be really big, then it is the best choice. With so many different culinary delights to choose from, a hog roast really is the best way to make your event in Aberystwyth much more enjoyable.