The Best Hog Roasts In Caernarfon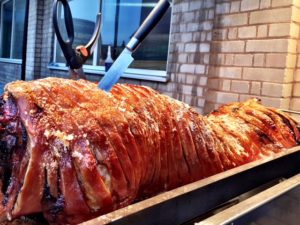 Hog roast Caernarfon operates across the whole of the straits to bring our unique culinary experience to private functions, parties and community events. As part of the catering team, I take part in preparation of our top quality produce, setting up our machines on location and of course cooking, carving and serving up the perfect roasted pig along with a wide variety of side dishes and alternative menu options.
The area is blessed with a diverse landscape, from our historic ports and urban centres to stunning unspoilt coastline featuring several nature reserves, idyllic woodland and sand stretching across the horizon. Over the years, hog roast Caernarfon have established a robust working relationship with several local businesses and events promoters to take our team to some beautiful locations, as well as responding to an ever-growing number of requests from the general public for party catering and machine hire.
Leaders In Our Field
Hog roast Caernarfon is a popular attraction at the International Guitar Festival; pickers, pluckers and shredders of all ages work up quite an appetite, and it's a pleasure to satisfy those pangs with hot pork in a roll, complemented by our special stuffing or sweet apple sauce – it's not only vintage six-strings that get them drooling! August's food and drink festival provides us with a prime opportunity to not only cater for visitors, but spread the word about the virtues of our succulent, fragrant roasts. We also get to display our expertise with roast turkeys at the Christmas Food Fayre; our Christmas menus are proving a hit with works parties and Yuletide marriages. For those of you, who have never experienced one of our roasts, let me briefly describe what you can expect…
We arrive early with our excellently-sourced animals completely fresh. This ensures that your guests have a chance to take in the full sensory theatre of the hog roast. While your occasion starts to get into swing, that unrivalled sensory aroma will begin to register, awakening the palate and stirring the inquisitive nature to enquiry. They will direct their gaze towards the turning hog; moist, succulent and seasoned to perfection. As the animal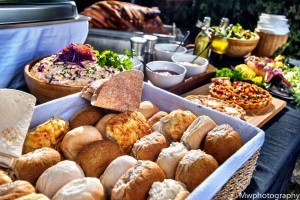 becomes ready to serve, they will notice the lustrous golden-brown glaze of the cooked meat, the crisp texture of the crackling. Don't be surprised if friends, colleagues and guests return for repeat helpings! This is not a problem: as long as there is food left, we plan ahead to keep waiting to a minimum in serving up both the centrepiece hog and our great selection of accompanying/alternative dishes. We are able to provide service par excellence indoors or out, and in all weather conditions.
Contact hog roast Caernarfon for your next special occasion, conference, wedding or good old knees-up. We take pride in making food a true spectacle; one that your guests will remember for years to come.