The Best Hog Roasts In Carmarthen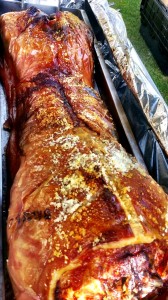 There is no better place to hold an event than in the bustling town of Carmarthen. It is a destination that is suitable for any occasion. What better back drop for a hog roast than the beautiful rolling hills and valleys around Carmarthen. The town's scenic  countryside have not only made it popular with tourists but also an ideal spot to hold a wedding. Carmarthen offers many buildings of historical interest for example Carmarthen Castle, which is one of the town's most visited attractions. We can cook up a real medieval feast with a whole spit roast pig and chickens just like in the days when the castle was a bustling place to be.
When it comes to planning any type of event in Carmarthen, you will want to choose a type of catering that will leave your guests feeling happy. A hog roast is a great choice for those wishing to avoid opting for bland party food. You can arrange a hog roast Carmarthen event and give your guests a meal that they won't forget in a hurry.
Leaders In Our Field
A hog roast provides traditional food without being boring. Selecting a hog roast will enable you to make your event much more unique and interesting without you having to worry about spending too much, as it a relatively cheap catering option. You also have a variety of menus to choose from, so you can easily choose something that will not only compliment your event but also provide a great selection of food for your guests.
Hog roast machines are now seen regularly at weddings, birthdays, christenings and even business functions. A hog roast provides a sumptuous meal and there is plenty of it. One roasted pig alone can feed over a hundred people, making a hog roast a suitable option for a large event. However, it can still be enjoyed at smaller, more intimate gatherings, such as barbecues.
Many guests hire us to provide a traditional hog roast but not everyone shares the same views and prefer a different meat for their event. This is far from a problem with our experienced chefs more than capable of delivering an extremely professional and high quality service whatever the menu may be. On this particular occasion it was our spit roasted Sirloin of roast beef served with horse radish sauce, Yorkshire puddings and homemade red wine gravy. Alongside the meat was seasonal vegetables and jacket wedges which went down very well.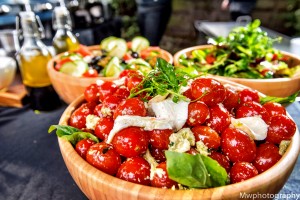 In addition to selecting hog roast catering for your event, you can also consider hiring a spit roasting machine. Hog roast hire Carmarthen will enable you to enjoy your own hog roasting experience and be the perfect host to your guests. If you love hosting parties and always aim to provide your guests with only the best food, then you can even consider purchasing a hog roast machine. Owning your own spit roasting machine will enable you to hold as many hog roast events as you desire.
Carmarthen's castles and beautiful countryside make it the perfect place to hold a hog roast event. Whether you are planning to host a medieval themed event or just a simple, informal get together, your hog roast Carmarthen event will be one to remember in this stunning location. It's not just the location that will get your guests talking – the hog roast itself is sure to be a feature of interest and your guests will enjoy the smell and taste so much that they'll no doubt be opting for one for their own events.
A hog roast is the perfect choice of catering for those wishing to bring friends and family together. In summer, you can arrange a hog roast outdoor buffet or barbecue and feast on roasted meat whilst watching the sun go down. Even when the weather grows cooler, you can still plan a hog roast event. At Christmas, you and your friends can enjoy a hog roast dinner with all the trimmings, washed down with some delicious mulled wine. Another main benefit of a hog roast is that it offers so much variety. You not only get the meat, but also many other food options that will surely satisfy your guests. Instead of having to go hungry whilst waiting for the meat to cook, you and your guests can enjoy a selection of canapés as well as fresh salads to go with the main meal. Once the meat is cooked, your guests can load up their plates with vegetables, jacket potatoes and many other types of food that will compliment their choice of meat.
Carmarthen's historic castles combined with a traditional hog roast meal will make your guests feel like royalty and you are sure to be receiving compliments about your event for days afterwards.