The Best Hog Roasts in Corwen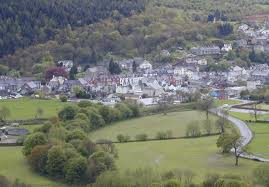 The town of Corwen in Wales is located just along the A5 standing along a curve in the River Dee and boasts an impressive history dating back to the Druids. For exploration, there is the Caer Drewyn Iron Age hill fort and the beautiful hills of Berwyn. I was asked to cater for the Eisteddfod, the Welsh Festival of literature, music and performance. Though the first Eisteddfod was held in 1176 in Cardigan, Corwen was, in fact, the first place to host this as a publicly-attended festival in 1919, so there's a lot of excitement generated by this event.
I am a hog roast caterer and have been working round the towns of North Wales for a few years now. I was pleased to find the day was bright and on the cold side, but the warmth of the Welsh people was not diminished in any way. I brought along my Titan Roasting Machine which is an easily manoeuvrable and easily setup machine. The Spitting Pig Company also offer a hog roast hire Corwen and machines of various sizes, but this time, since Corwen is not a large town, I felt the Titan would see me through nicely. I had never been asked to cater what I liked to call "Hog roast Corwen" before, but I found the town council very accommodating in setting things up such as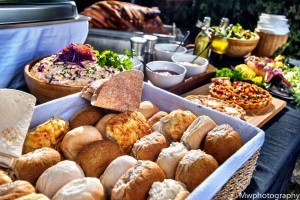 tables and chairs and bins. I, and my partner, provided the locally-sourced and very large hog to roast, the soft rolls were kept nicely warmed beside the Titan as was our homemade and very popular sage stuffing, which, when sliced, makes a fabulous addition to the sandwich itself. The homemade applesauce and other condiments were set out on their own table nearby so folk could help themselves. I know the menu sounds simple, but I have found that at these large, outdoor events, people prefer a simple, easy-to-manage sandwich that can be filled with everything needed to make a very tasty treat. As well, when it's just a sandwich, you can easily find yourself eating two – or more!
There was plenty of entertainment on offer as well as refreshments of an invigorating nature, so a good day with lots of good appetites was assured. To roast a hog on the Titan can take some time, as I often use a beast of about 80+ kilos if it's a really large event. Yet, surprisingly, there is little work to it. The key is to arrive and get set up early enough to get the meat on the go. Once it starts to cook, the wafting scent alone is enough to entice customers to line up all day long.
I also find people are drawn to the machine itself with its enviable design and shining steel, it's a marvel of construction and while "standing guard", I tend to answer a lot of questions about its use and affordability. These machines can access grassy areas as well as beaches, so there's really very few limitations involved as far as venues are concerned. I have found through experience that there's a lot of interest out there for machines like this on a smaller scale for use by your backyard roasters. The meat is so easy to slice, and the Titan makes the job very easy as there's access to all sides of the machine.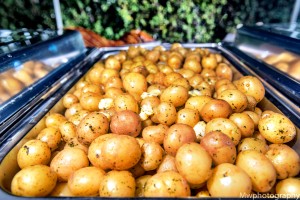 The profitability is there each and every time, too. My Titan machine was a purchase, not a hog roast hire Corwen, as I felt I would be looking at a number of good years as a caterer. And I was right to do so, as it paid for itself within its first one or two uses. In the past, I have roasted chickens and beef or lamb together simultaneously and it can also do potatoes and other vegetables. I have to say, Hog roast Corwen was a complete success. I served nearly 300 people and there was nothing leftover to take home. That's a successful sign to me as a business owner. The juicy sliced meat sandwiches with just the right variety of condiments is a wonderful thing.