The Best Hog Roasts in Denbigh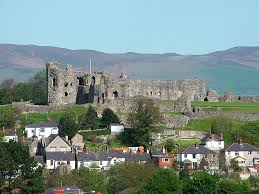 Although, as a hog roast caterer here in Denbigh, my profession is one that provides a service to residents other than myself, that doesn't mean I feel any less a member of the community. In actual fact, it's the exact opposite – it makes me more aware of my role within the town, as a member of it, and so I hope, it allows me to really give the town something it needs: quality food for our important moments. Towns, not just armies, march on their stomachs, and I feel very much the sense of responsibility I have as someone who offers hog roast Denbigh catering services. My experiences working for Hog Roast Denbigh have led me to think that we definitely do not fall short of that responsibility – we pride ourselves on our efficient, polite (and delicious) service, which exists for the good people of Denbigh. We like to see ourselves as one cog among many!
Leaders in Our Field
If you've already been to a hog roast Denbigh event we were catering, or even hired us before, you'll know what we're all about! And rest assured, we've only improved as a caterer since you last saw us (unless, perhaps, it was yesterday – in which case, if we're being modest, we're probably about the same!) For those who haven't heard of us before,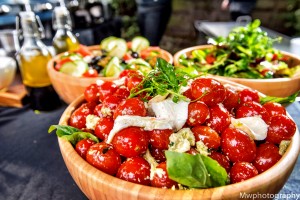 however, here are the basics: we're a catering company who centres its style on beautifully cooked hog roasts. But that's not even the half of it; to begin with, even though hog roasts are how we made our name, they aren't even the limit of what meats we spit-roast – for that, there's a list which includes spring lamb, sirloin of beef, whole turkeys, chickens – or even the limit of what meat products we offer – for that, there's a list of all your barbecue favourites, including deluxe 6oz beef burgers, and chefs' own sausages. So you're starting to see that we're hard to nail down! We've got many strings to our bow, because we know that to really make an event special, it has to be exactly how you want it, not however is most convenient for us. That's why we've gone to such lengths to develop a truly mesmerising list of starters, canapés, desserts, and side dishes – all, however, to complement our piece de resistance: mouth-wateringly good spit-roasted meats.
And all this choice is combined with an excellent work ethos: for instance, we bring along marquees to every outdoor event we cater, just in case it rains. And we don't leave any mess around for someone else to clear up, we take care of everything so that the only evidence we were there is full stomachs and contented smiles! The people of Denbigh have used us for weddings, parties, charity fundraisers, fun days, staff events and corporate dos – the only way we'd be appropriate for all is by being totally flexible and customisable to each person's own idea of their perfect day. And so far, so good. Your approval is in repeat bookings, compliments, and in testimonials from happy hog roast Denbigh customers.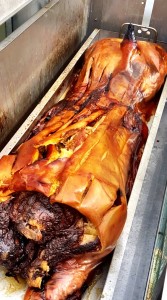 Turkey roasts are becoming more and more popular at events, especially toward the Christmas period. Qioptiq LTD hired us to cater for 300 people at a recent function at their Denbigh HQ. We arrived at the venue early and began to set up the machine in the grounds. The menu we catered for was spit roasted turkey served with fresh cranberries and sage & onion stuffing for 270 guests, accompanied by seasonal vegetables and warm new potatoes in herb butter. Amongst the guest were 30 vegetarians who were served a vegetarian quiche. Excellent service is the least you should expect when booking hog roast Denbigh. We will do whatever it takes to make sure each and every detail of your event is taken care of, however tasking.
To see what they're talking about, give us a ring and we'll start planning your event right away.