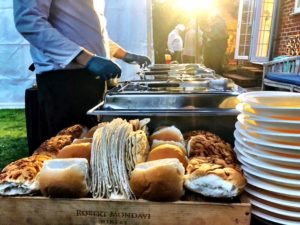 The beautiful town of Dolgellau's enviable position in the heart of Snowdonia makes it an idyllic location for hosting any kind of event or special celebration. If you are worried that hosting your event in your favourite spot would come at the cost of having to compromise on the quality of the food though, think again.
Here at Hog Roast Dolgellau, we are the local leading experts in all aspects of hog roast catering, whilst also having the ability to cater to an excellent standard in any of Dolgellau's scenic settings. Our skilled catering team have the experience and versatility to be able to prepare and present our food in any type of environment, and our robust yet streamlined cooking equipment enable us to transport it to any type of outdoor location or more intimate indoor setting. Being able to cater in any location doesn't mean that we cut corners when it comes to preparing our menus though. Whether we are in rustic or refined settings, we are 100 percent committed to making every aspect of your chosen menu from scratch on-site, using only the best ethically-reared meat and locally sourced ingredients.
The Local And Reliable Catering Company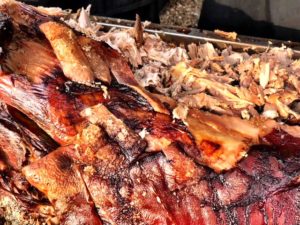 Hog Roast Dolgellau's ability to offer you complete flexibility for your event also extends to the vast range of menus we offer, which include lots of lovely slow-roasted meats if you would prefer two meat options or an alternative to pork, as well as flavoursome vegetarian and vegan dishes, varied side dishes tempting starters, moreish desserts and mouth-watering canapes.
We always put a lot of effort into making sure everyone will love our food and we leave no stone unturned when it comes to ensuring all of our dishes are exactly as you want them to be. This allows us to offer you a truly bespoke service that will guarantee to delight all of your guests.
If you want a superior dining experience whilst enjoying your favourite view across Snowdonia, as well as a menu that is tailored to meet your needs down to the letter, you won't find a catering company in the entire area better equipped to meet your needs than the Hog Roast Dolgellau team.