The Best Hog Roasts In Mold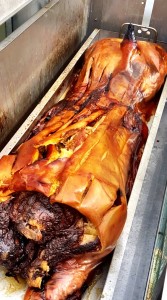 Hog roast Mold offers indoor and outdoor catering that is more than just your average buffet spread. If you have yet to sample the delights of one our roasts, let me explain what makes our service so unique and attractive.
Our team provides tailored catering and machine hire for functions, weddings and parties of various sizes across the area. Our roasting machines act as a spectacular focal point for the occasion, where along with serving mouth-watering roast pork, we have a wide range of other choices of main meals and side dishes available, at prices which are competitive with standard providers. Just tell us what you need and we will bring it to you. You can set this in motion right here.
Mold is an official 'cittaslow' – a slow food town. Local eating establishments pride themselves on providing the community and visitors with an eating experience where the emphasis is on quality and loving attention to the cooking process. Our philosophy at hog roast Mold is much the same: it's not about getting to the end product quickly: our customers get to enjoy every facet of the feast as it unfolds: the freshest well-sourced meat placed onto our state-of-the-art machines, the bewitching transformations in colour as the hog bastes – you see the crackling turning an intense gold; feel the keen sense of anticipation as irresistible aromas begin to permeate the venue. Once the hog is roasted to a tee, the time for waiting is over; our experienced catering team ensures that you and your guests are served with the fruits of our expertise in a smooth, efficient and polite manner. Archaeologists have discovered that the town has been inhabited for over 3,000 years.
Leaders In Our Field
We have catered for many events in Mold with the town becoming more and more of a successful area for us. The park at Bailey Hill commands stunning views of the local area, and we often serve functions in these splendid historic surroundings. It's easy to picture our forefathers gathered around a more primitive fire, transfixed by the open flames, eager to share in a communal feast of spit roast hog or wild boar. I would imagine that such gatherings were at the mercy of nature; luckily our vans come equipped with marquees to shelter the serving area should the heavens open.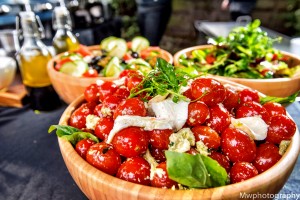 Celyn Farmers Market is a well-respected weekly gathering that showcases the finest local meat, fruit, preserves, organic vegetables and speciality foods. We like to stay in touch with food producers at a local level as we have a commitment to utilising the very best produce available; here at Hog Roast Mold, we want people to come back to us safe in the knowledge that they will be part of an occasion that will live long in the memory of everyone present. And of course, dishes that look and taste magnificent play a major part in achieving this. Combined with the sheer spectacle of a pig roast, whether you're entertaining business colleagues, customers, friends or family, you have a recipe for those happy memories.