Leaders in Our Field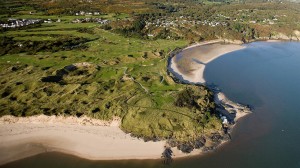 Porthmadog is said to be the perfect place to visit but I actually think it's the perfect place to live! When I was a kid, our town was called Portmadoc but if you're local like me, you'll affectionately call our town Port anyway, and you'll be proud of our Welsh history. We have a rich maritime history and we're even famous for exporting slate but we also have an interesting recent history here too. Pop fans will recognise Port in Duffy's video 'Rockferry' and the nearby village of Morfa Bychan in the Supergrass video for 'Alright' and if you've ever seen the movie Macbeth from 1971, you'll know that it was partly filmed at Black Rock Sands.
These days we're such a popular tourist destination, so it makes sense that we have many wonderful places to eat and drink in the town. From burger vans to gastropubs, cute tearooms to restaurants featured in the Michelin Guide, we have so many options on offer in Port. When it comes to hiring local caterers, here at Hog Roast Porthmadog we also have more options available than you might think. Sure, we can cook a mean hog or spit roast, but that's not all we do. We can provide just about any type of food that you fancy for your special occasion, whether that's our pigs in buns, barbecued burgers and sausages, homemade starters and desserts, veggie or gluten-free options, or an entire meal of meat, vegetables and potatoes cooked together in one of our machines (as it acts like a conventional oven).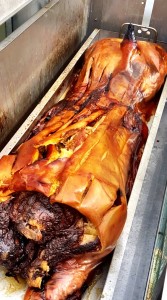 We can also cater just about anywhere for any number of people. Our hog roast machines are powered by gas, meaning we can transport them to your venue of choice, even if you're planning a wedding reception in a barn in the middle of farmland or at an engagement party barefoot on the beach nearby. You'll no doubt have smelled the aromas of our succulent hogs roasting away for hours all over the area and we often provide catering for parties and events in Port and in the nearby villages of Borth-y-Gest, Tremadog and Morfa Bychan. Whether you're planning a party or event in the community centre or your back garden at home in Port or around this area, or in the middle of nowhere, we can solve your catering needs and take the stress off your shoulders.